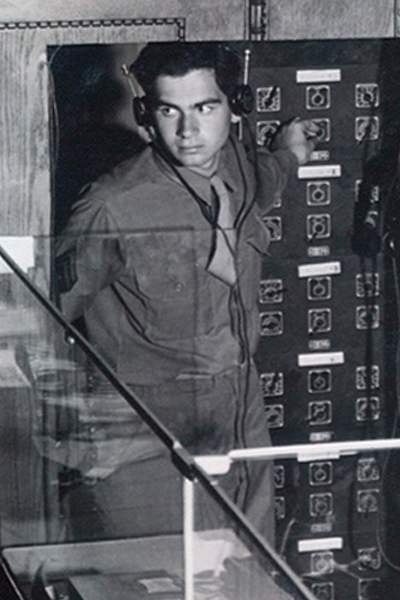 Record date:
Hal Bergen, Technician Fifth Grade
As a sound technician for Nuremberg trials, the international multi-lingual court hearings of major Nazi criminals in the aftermath of World War II, Hal Bergen was essential in recording history in the making.
Hal Bergen was born in 1927 in Chicago, IL. He grew up during the Depression in the Lawndale neighborhood of Chicago, and attended the William Penn School. His dad was a candy salesperson and cab driver, and his mother worked for an insurance company. At school, Bergen studied and enjoyed journalism and debate. As a Jew, he recalls his fears that Hitler would start concentration camps, in the US.
In May of 1945, at the age of eighteen, he joined the US Army and went to basic training at Camp Fannin, Texas. Bergen trained in radio and the infantry at Fort Benning, Georgia, and prepared to enter the Pacific Theater as part of an attack on Tokyo Bay that never came to fruition. Instead, Bergen deployed to Cherbourg, France and was soon transferred to Nuremberg, Germany. The army almost declared Bergen a deserter due to a bureaucratic mix-up during his transfer.
Bergen became a sound technician for the Nuremberg trials at the Palace of Justice, starting in April of 1946. Bergen's responsibilities at the trial included running wires through the rooms, providing headphones for translations, making and distributing recordings of the trials to the press, and making sound adjustments for participants who spoke English, including Walter Cronkite. Bergen frequented the Stork Club and collected beer mugs in his time off. He witnessed the second half of the trials and the sentencing of the defense, although as a nineteen year old, did not fully realize the significance of the trials. At the conclusion of the trials, Bergen returned to Chicago. After his service, he went to IIT on the GI Bill and then worked as a public relations person in Chicago. He worked for various corporate clients, including Miller Brewing Company and General Motors.