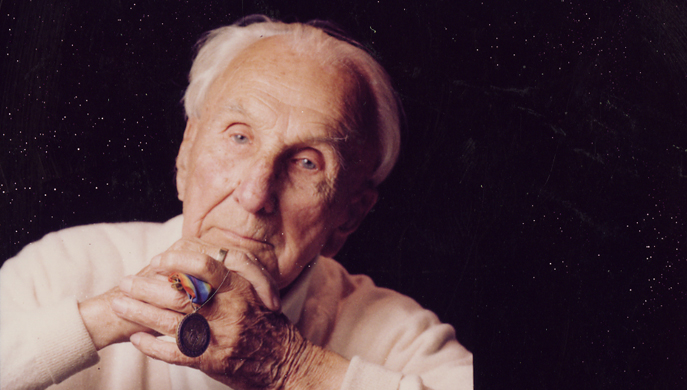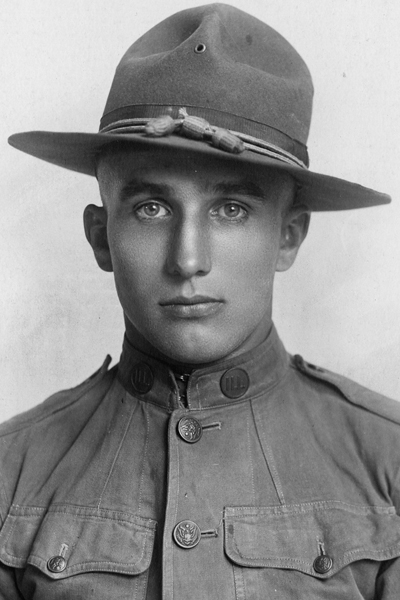 Record date:
Lawrence Westerman Interview Transcription
Lawrence Westerman, 1st Lieutenant
Recorded in 1995 by Museum & Library founder J.N. Pritzker, a retired colonel in the Illinois National Guard, the Lawrence Westerman interview set the groundwork for the Holt Oral History program and our mission to get on record and to make accessible the experiences of the men and women that served in the military. Here, we hear the first-hand accounts of a Chicagoan that experienced adventure but also the horror of being wounded during World War I, and his perspective on a wealth of topics related to his military service.
Lawrence Westerman was born on January 14, 1896, in Chicago, Illinois. The third child of German immigrants, his father had served in the German Colonial Army in Africa before coming to the United States in the early 1880s. Westerman enlisted in the Illinois National Guard on June 16, 1916, and was shortly thereafter deployed to Texas, guarding the border with Mexico while General Pershing launched the Punitive Expedition against Pancho Villa. In those two years, Westerman rose in rank from private to first lieutenant.
When the U.S. joined World War I, the Illinois National Guard was mustered into federal service. Westerman's unit, the 1st Regiment of the Illinois National Guard, became the 131st Regiment of the 33rd Infantry Division and was deployed overseas to France in May of 1918. The unit participated in some of the actions that are now collectively known as the Hundred Days' Offensive, including the Meuse-Argonne offensive –the bloodiest single battle in U.S. history.
During a midnight reconnaissance patrol, Westerman was wounded by shrapnel from artillery fire. He was evacuated to a hospital in Britain, where he remained until Christmas 1918 when he was transferred to the hospital at Fort Sheridan in Chicago. He would spend most of 1919 recovering and would have to use crutches even after being discharged. Westerman was awarded a Purple Heart, and is one of the oldest recipients of the medal. He was discharged from the hospital and the Army in the spring of 1920 and went on to become one of the founding members of the 131st Infantry's American Legion post.
In his interview, Westerman repeatedly emphasizes that many of his officers were "just businessmen" who joined the military for its social benefit. His experiences help us understand how unprepared the American military was to fight in the industrial warfare of the Western Front, as soldiers trained in what Westerman calls "sort of a club atmosphere" under officers who themselves had received little or no formal training.