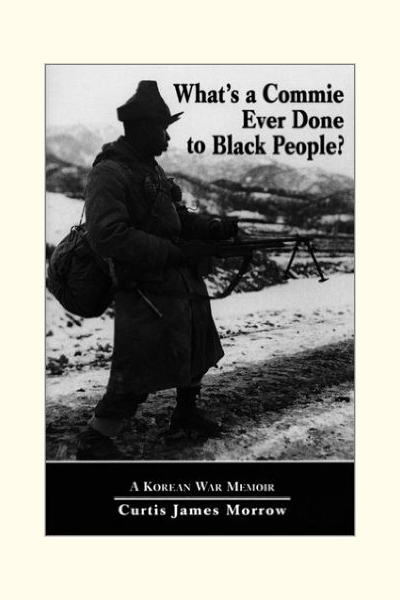 Record date:
Curtis Morrow, Private 1st Class
A former Buffalo Soldier who served with the U.S. Army's last all-Black unit during the Korean War, Chicago native Curtis Morrow is an artist, a jewelry maker, and an author of two books, including What's a Commie Ever Done to Black People? — exploring his experiences with racial discrimination in the Armed Forces. 
Born in Chicago in 1933, Curtis Morrow grew up with five brothers and two sisters. When he was 12, his family moved to Michigan, where his mother would live for the remainder of her life. When he was in the ninth grade, Morrow dropped out of school, which led him to pursue his goals of traveling the world through the U.S. Army.
When he turned 17, Morrow immediately enlisted in the Army and officially joined the 24th Infantry Regiment less than a month later, on April 6, 1950. He was first assigned to Fort Belvoir, Virginia, where he was trained in demolition. While in training there, Morrow learned of the escalating conflict in Korea and volunteered for service, deploying in December of 1950.
In his interview, Morrow recalls the difficulties he encountered while in Korea, discussing the dangers of warfare, recalling a few near-misses, and reflecting on what it was like to be a squad leader. Being in charge of young men was difficult, he says, mentioning that he had to keep the troops away from alcohol.
An important aspect of this war for Morrow was his unique experience as a Black soldier. He recalls a time when a couple soldiers that had been drafted complained about how the Korean and Chinese communists had really never done anything to them as African Americans. He recalls his platoon leader answering this by reminding them it was just another fight. There is no doubt this experience is what led Morrow to write his book, What's a Commie Ever Done to Black People?, which recounts many of the same experiences.
After spending some time in Japan,  Morrow was discharged on June 10, 1954. He now lives in Chicago, where he works as a jewelry artist and regularly visits local schools to share his experiences.