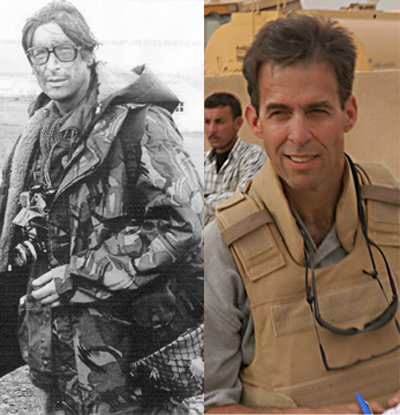 Record date:
Max Hastings & Rick Atkinson: The Embedded Journalist and Military History
Pritzker Military Museum & Library and Norwich University present a discussion between two highly respected historians and journalists, Rick Atkinson and Sir Max Hastings. These two discuss the role that embedded journalists play in military history. Sponsored by Norwich University.
Both Hastings and Atkinson share personal experiences from their time embedded in various parts of the world, from the Falkland Islands to Iraq. They also examine the history of embedded journalists and how these journalists impact the public perception of the military, battles, and wars.
SIR MAX HASTINGS, a British historian, was named the recipient of the 2012 Pritzker Military Library Literature Award for Lifetime Achievement in Military Writing. Hastings is hailed as an accomplished journalist, writer, historian and editor. He is the author of 23 books, the most recent of which include Inferno: The World at War, 1939-1945, Finest Years: Churchill as Warlord 1940-45, Armageddon: The Battle for Germany 1944-45 and Nemesis: The Battle for Japan 1944-45. Hastings has reported on eleven conflicts, including Vietnam and the 1982 South Atlantic war. He was the Editor and later Editor in Chief, of the Daily Telegraph for 9 years and of the Evening Standard for 4 years.
RICK ATKINSON received the 2010 Pritzker Military Library Literature Award for Lifetime Achievement in Military Writing. Atkinson recently completed his trilogy about the American role in the liberation of Europe in World War II. The first volume, An Army at Dawn, won acclaim for its brilliantly researched, deeply felt narrative of the Allied campaign in North Africa. It was followed by The Day of Battle, which interwove portraits of Eisenhower, Patton, Roosevelt, and Churchill with unforgettable images of soldiers confronted with the transformative effect of fear and violence. He is also the author of In the Company of Soldiers, which followed the 101st Airborne Division and Gen. David Petraeus in Iraq; Crusade, a narrative history of the Persian Gulf War; and The Long Gray Line, a narrative account of West Point's class of 1966.