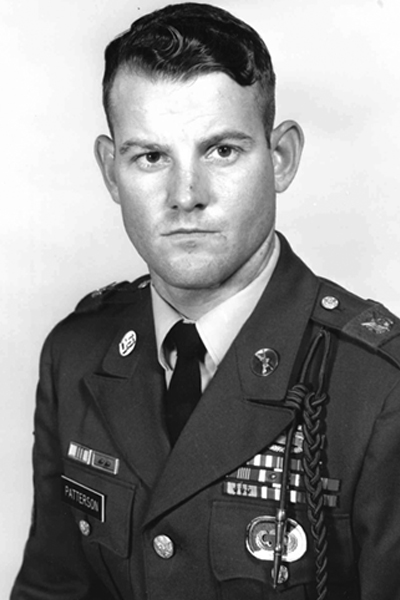 Record date:
Medal of Honor Recipient Robert Patterson Interview
In October 1969, a few months after his 21st birthday, Robert Patterson was awarded the Medal of Honor.
After enlisting un the Army, Robert M. Patterson was assigned to the 82nd Airborne Division at Fort Bragg in his native North Carolina. In December 1967, a few months before his 20th birthday, he was transferred to the 17th Cavalry and sent to Vietnam. Six months later, his platoon was ordered to sweep out what they were told was a small force of Vietcong near the farming region of La Chu. However, what they found there instead was a battalion-sized force of North Vietnamese Army regulars – and they were suddenly outnumbered by more than three to one.
In the ensuing firefight, Patterson's squad was cut off from the rest of the platoon by a complex of enemy bunkers and one-man "spider-holes". Climbing to the second floor of a pagoda, Patterson was able to destroy two of the bunkers, but several more remained. With flanking maneuvers stalled and his unit taking casualties, Patterson made the fateful decision to charge into the hail of enemy fire – and that was when his memory went out. Though he would remember none of it, his fellow soldiers saw him single-handedly destroy five bunkers, kill eight enemy soldiers, and capture a cache of weapons. With that opening, his squad was able to rejoin their platoon and continue the attack until they were relieved the next morning.
Patterson returned home to Fort Bragg later that year.  He went on to serve for more than a decade as a drill sergeant at Fort Bliss, Texas. After retiring from the Army, he worked for 12 years as a representative with the Department of Veteran Affairs.
His Citation Reads:
For conspicuous gallantry and intrepidity in action at the risk of his life above and beyond the call of duty. SGT Patterson (then SP4.) distinguished himself while serving as a fire team leader of the 3d Platoon, Troop B, during an assault against a North Vietnamese Army battalion which was entrenched in a heavily fortified position. When the leading squad of the 3d Platoon was pinned down by heavy interlocking automatic weapon and rocket propelled grenade fire from two enemy bunkers, SGT Patterson and the two other members of his assault team moved forward under a hail of enemy fire to destroy the bunkers with grenade and machinegun fire. Observing that his comrades were being fired on from a third enemy bunker covered by enemy gunners in l-man spider holes, SGT Patterson, with complete disregard for his safety and ignoring the warning of his comrades that he was moving into a bunker complex, assaulted and destroyed the position. Although exposed to intensive small arm and grenade fire from the bunkers and their mutually supporting emplacements. SGT Patterson continued his assault upon the bunkers which were impeding the advance of his unit. SGT Patterson single-handedly destroyed by rifle and grenade fire five enemy bunkers, killed eight enemy soldiers and captured seven weapons. His dauntless courage and heroism inspired his platoon to resume the attack and to penetrate the enemy defensive position. SGT Patterson's action at the risk of his life has reflected great credit upon himself, his unit, and the U.S. Army.