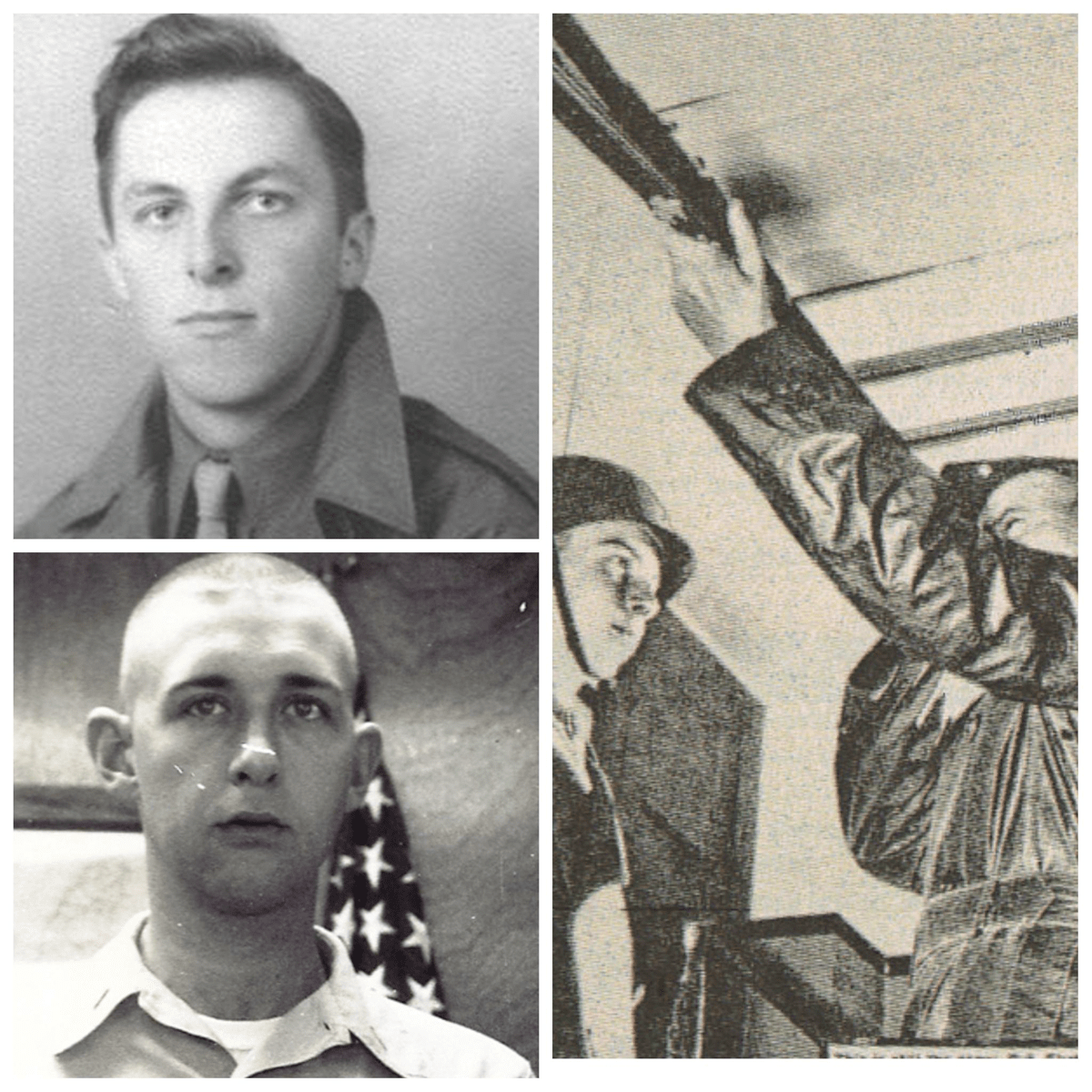 Life Behind the Wire: Oral Histories of Prisoners of War
The current exhibit, Life Behind the Wire: Prisoners of War examines the treatment of prisoners of war during World War II and the Vietnam War as well as their physical and spiritual struggles.
One of the World War II prisoners featured is flight crew member, Lieutenant Donald Casey, of the 379th Bomb Group (Heavy), 8th Air Force, whose photo, uniform, heavily patched socks, and slippers are on display. After twenty-seven successful combat missions, his luck ran out when his plane was hit on a bombing mission to Hamburg on June 18, 1944. He was forced to parachute out. Shortly after that arrested and imprisoned in Stalag Luft (Air) III of "Great Escape" fame in Żagań, now in Poland.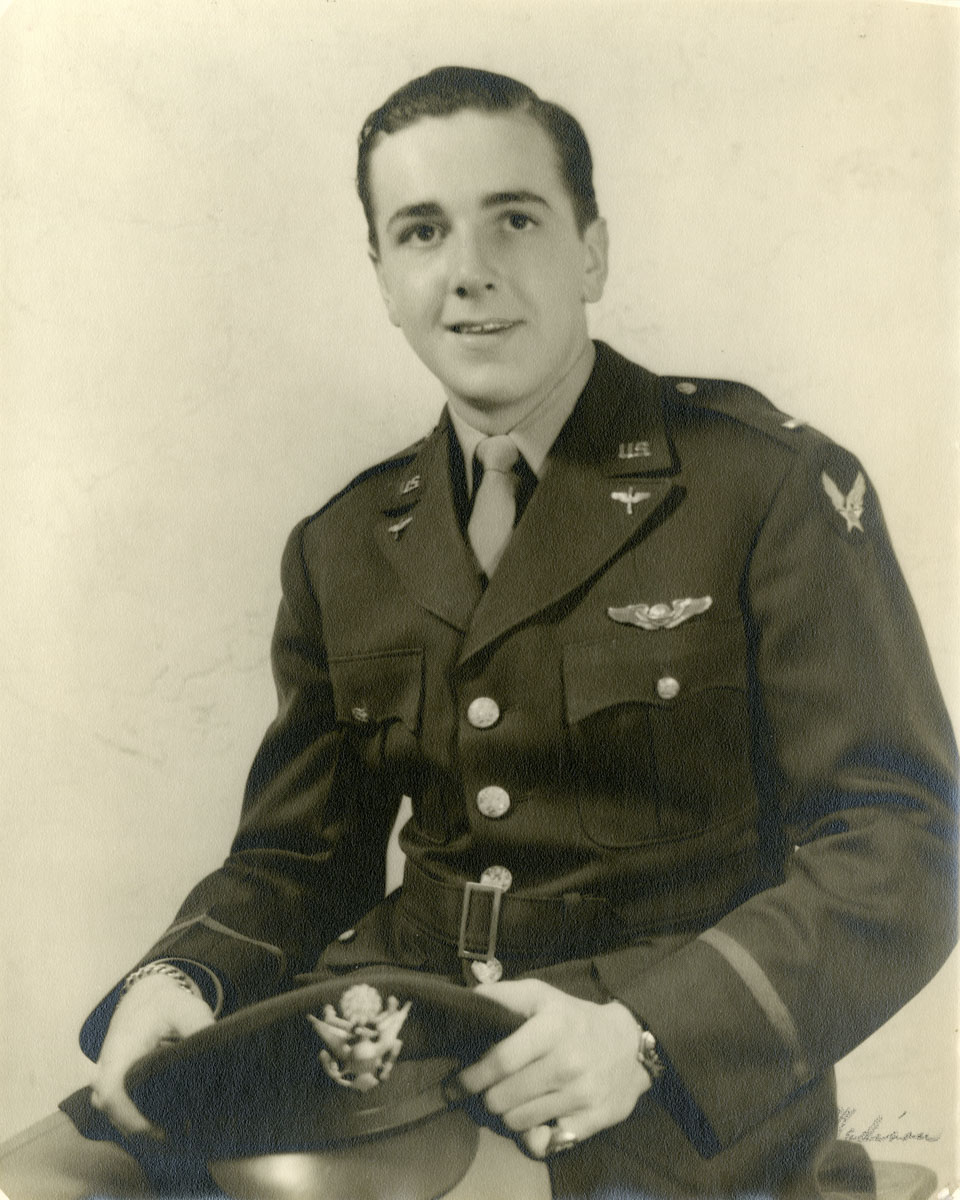 Did Lieutenant Casey participate in the digging of tunnels and or attempt escape along with two hundred other prisoners? Read or listen to his oral history to find out. 
While many airmen fell into the enemy's hands, PFC Malcolm Esktrand was captured in the fall of 1945, while driving a jeep, shot at by German forces. He received interim medical care but found himself sleeping in a stalag with only German prisoners, fearing for his life. Check out his story. 
This exhibit draws out a surprising fact: the mortality rate of Allied prisoners held in Germany was at 1% while the mortality of prisoners held in the Japanese Empire was at 38%. This reflects the degree to which the German abided by the Geneva Convention, 1929, which mandated humane treatment of POWs.
PFC Carver McGriff of the 90th Infantry Division, received medical care from the Germans after he was hit by artillery in Mortain, France,
"They did surgery on me and took big pieces of metal out of my legs and... I… realized…they had given me medical attention while at least a hundred of their men are lying out there on stretchers…Among my enemies, [there are] decent people with kindness and grace."
Read more about Carver McGriff's story, including his landing on Omaha Beach on D-Day. 
In contrast, the Germans contravened the Geneva Convention when they captured Allied Jewish soldiers. Corporal Richard Lockhart, of the US Army's 106th Infantry Division was imprisoned at Stalag IXB following the unit's surrender at the Battle of the Bulge. He was an eye witness to the Germans segregating Jewish prisoners there to fulfill what turned out to be a quota of 350 slave laborers for Berga Concentration Camp. Lockhart who later devoted time to Holocaust awareness shared his oral history with us. 
Life Behind the Wire also devotes a section to the 735 American POWs held during the Vietnam War. Many were imprisoned in isolated cells in Hỏa Lò Prison, known as the "Hanoi Hilton." It had been built a priori as a prison by the French with thick walls about 15-25 feet high and lined with barbed wire and broken wine bottles. With escape not possible, how did prisoners keep up their morale?
Communication by a system of taps was a form of spiritual resistance. Each letter of the alphabet was comprised of a certain number of taps based on a five by five grid. About seventy-five prisoners communicated in this way whereby one prisoner would tap out messages to the prisoner in the call adjacent to him and so it would go down the chain.
Officer John Borling and other prisoners even composed poetry using taps, which he later gathered in a book, entitled, Taps on the Wall. In spite of Officer Borling's lengthy imprisonment of six years, he resumed his military career after he was released, rising to the rank of major general.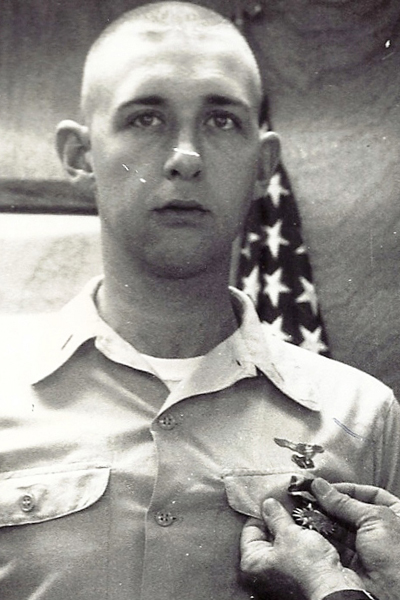 Hear his story in his own words. 
Further educational resources on POWs are found in all the  oral histories above. Life Behind the Wire will be on view until April 1, 2023.