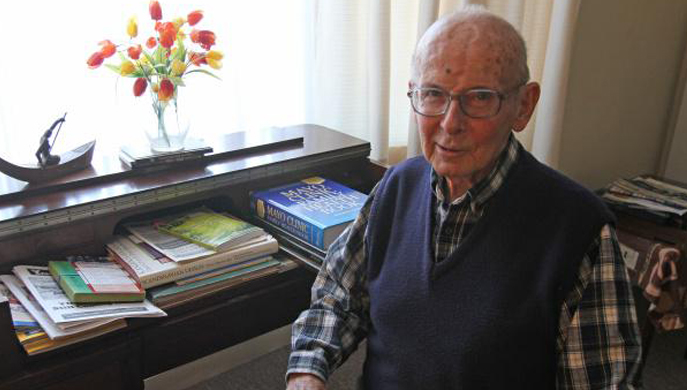 Record date:
Dr. Malcolm Ekstrand, Private 1st Class
Going from working kitchen duty with the Yankee Division in France to enduring seven days of German captivity while wounded, Dr. Malcolm Ekstrand's story of service shows the dangers that can befall anyone, at a moment's notice, during war.
The son of Swedish immigrants, Dr. Ekstrand grew up in Providence, Rhode Island, during the Great Depression. Dr. Ekstrand wanted to join the military after Pearl Harbor, but had to wait two years until he turned 18. After turning 18, Dr. Ekstrand received orders to report to Atlantic City to begin training with the Army Air Corps. After completing his basic training, Dr. Ekstrand found out that he had been accepted into the Army's Specialized Training Program (ASTP). Dr. Ekstrand found out that he would be attending Providence College, not far from his family and studying engineering. After about a year in the ASTP program, Dr. Ekstrand found out that the ASTP program was going to be ended. Dr. Ekstrand was assigned to the 26th "Yankee" Infantry Division.
In August of 1944, Dr. Ekstrand, along with several thousand men from the 26th Yankee Division, boarded a ship in New York bound for Europe, and on the 6th of September 1944 Dr. Ekstrand and the 26th Yankee Division landed on Omaha Beach in Normandy, France. The 26th Yankee Division was assigned to General Patton's Third Army and fought through France as part of the Loraine Campaign, and then in to Belgium to re-enforce the American lines in the Battle of the Bulge. After helping to push the Germans out of the bulge the 26th Yankee Division crossed the Rhine River into Germany. Dr. Ekstrand worked on kitchen detail throughout these campaigns until April when he was asked to become a jeep driver. Despite not knowing how to drive, Dr. Ekstrand said he would and after a two day crash course was a driver for several commanding officers until April 24th 1945 when he and a Captain Simms were shot and taken prisoner by German forces. After seven days in captivity with almost no medical treatment Dr. Ekstrand and Captain Simms were liberated by American soldiers.
After spending several months in various hospitals, Dr. Ekstrand returned to the United States where he was released from the Army and returned to civilian life--eventually graduating Temple University with a degree in Podiatry. He returned to Rhode Island and began practicing until his retirement in 1993. He currently lives in Rhode Island.
A graphic novel was created to illustrate Private Ekstrand's experiences.