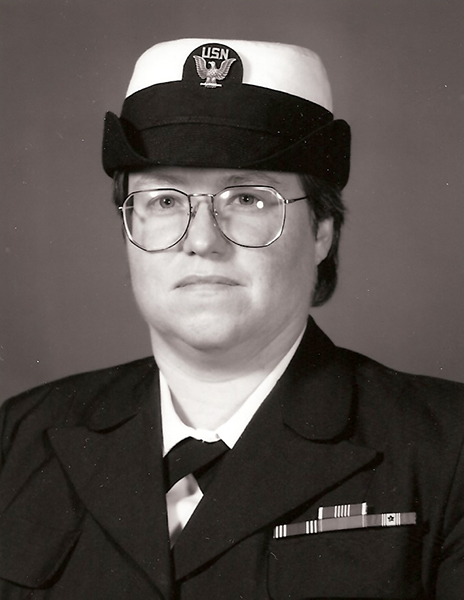 Record date:
Mary Arvidson, Master Chief, US Navy
For many former members of the US military, their time spent as a member of one of the branches was an experience that yielded them the time and space to both contribute what they had and to develop new strengths. But for some veterans, their service evolved from the short term into a lifelong career, and in some cases, they may even dedicate their service to more than one branch. For  Master Chief Mary Arvidson, this meant being a leader and an advocate for her fellow servicemen and women within both the US Army and Navy. But after retiring from an impressive thirty-year career in intelligence, Arvidson would still have wanted to give more, declaring: "When people thank me for my service, I tell them I'd still be doing it if they would have let me."
Mary Arvidson grew up in Niles, Illinois, the eldest girl in a family of seven siblings, and the child of a kindergarten teacher mother, and an underwriter-mathematician father. While her father had served in the Navy during World War II, and her ancestors served in a succession of US military conflicts dating back to the American Revolution, it wasn't until Arvidson that her present-day family felt an enduring presence in the forces.
With her initial venture into college presenting some personal challenges, Arvidson decided to pursue an alternative route that was quite unpopular at the time: joining the Army. Though her Vietnam-era friends may have disapproved—and her Navy-veteran father, though proud, jested why she had chosen the Army over "a decent service like the Navy"— Arvidson sought an opportunity that would give her the best options for a firm direction. The Army's intelligence division presented an answer.
Though basic training was rough—meaning dead-summer in the rural Alabama mountains with no air-conditioning and one bathroom for an entire barrack, rough—this was Arvidson's first experience with something that she came to love most about the military. This was the ability to get to know people from different backgrounds. With her rigorous physical training behind her and a firm grasp of Army fundamentals that included a knowledge of ranks and uniforms as well as skills like marching and using a compass, Arvidson traveled north in order to train in her assigned intelligence specialty.
A stark shift in landscape brought her to northern Massachusetts in the middle of winter, where she would learn to be a signals analyst. Arvidson studied international orders of battle, geography, and an introduction to code-breaking that prepared her for her intended work with Vietnam and Czechoslovakia [present day Czech Republic and Slovakia]. In 1973, Arvidson found herself in Virginia performing interceptions and managing reports on Vietnam War radio transmissions. But when this intelligence station closed down in 1974, Arvidson was given the opportunity to attend a military language institute in California. Her shock? She wouldn't be studying something more expected like Vietnamese, Japanese, or Korean. Instead, she would study both the Czech and Slovak languages.
Arvidson's experience as a language student came with eye-opening exposure to the effects of the Cold War by way of her refugee instructors who had escaped their homeland due to the 1968 Prague Spring. But her time at the institute was a decidedly important time in her early life and career for more than one reason. Alongside this deeper understanding of international conflict also came Arvidson's first chance to be a leader when she was given the role of barrack's sergeant. This meant being a manager, a mentor, and a listening ear—and it wouldn't be the first time that she that assumed such responsibility.
After her stint in California, Arvidson was sent to Germany, first working at an obscure site called Eckstein, and then eventually continuing on to work at Augsburg, well-known within the world of Army intelligence. Germany presented a whole new set of learning experiences and challenges. One such matter was arguing about long-showers in one-sided German and English conversations with a certain Herr Perlinger, Arvidson's American-loving landlord at Eckstein, who conversely, had fought Americans in both World War I and II. In Augsburg, Arvidson once again found herself a barrack's sergeant, and though the responsibilities were roughly the same, she dealt with the added headache of keeping her fellow service members away from German beer.
When Arvidson finally came back to the Chicago area post-deployment, she took a break from the service, though it would end up being a mere temporary pause. In the time between Army intelligence and being called back to serve in Naval intelligence, Arvidson did not sit still. She chose to go back to school and pursued law enforcement, eventually ending up as a security guard, and then, later on, a police and fire dispatcher. In this chapter of her life, she continued to utilize and build on her leadership skills, but the next stage would bring her biggest achievement yet.
With about a decade in between Army and Navy, Arvidson picked up where she left off as an intelligence specialist, working first at the Glenview Naval Air Station and later at Fort Sheridan. Several years and multiple promotions later, Arvidson was sent to Washington D.C. in order to assist with post-9/11 mobilization. When she returned to Illinois, however, Arvidson was promoted to common master chief, her highest rank. Instead of retiring, she ended up going down to Texas to assist, once again, in running a naval intelligence office. In the last phase of her military career, she accepted one final offer to replace a retiring master chief. Since this opportunity came at a time which made sense for her to retire from her civilian career, she accepted a final position in Washington, D.C. In eventually closing out a three-decade-long military career, which she says was "like walking off a cliff," Arvidson also knew that it was time to come home.
From her early experience as a barrack's sergeant to the continued practice of "Eyes On Leadership," which Arvidson explains as a straightforward method of leading by being accessible and available to people, Mary Arvidson has had an undeniable impact on the services. She became a skilled and dedicated leader, a clear trailblazer for women in the military, evidence of which comes from a conversation she had late in her career. A group of girls saying, "We've never seen a female master chief before," a testament to her impact if by her presence alone. Though retired, it comes as no surprise that Arvidson continues to volunteer with military organizations and societies. She is even an accomplished bugler, performing as a crucial part of the last salute to departed military veterans. And today she remains firm in her conviction—without having made the decision to join the Army fresh out of high school, her life would never have gone down such a unique and effective path.