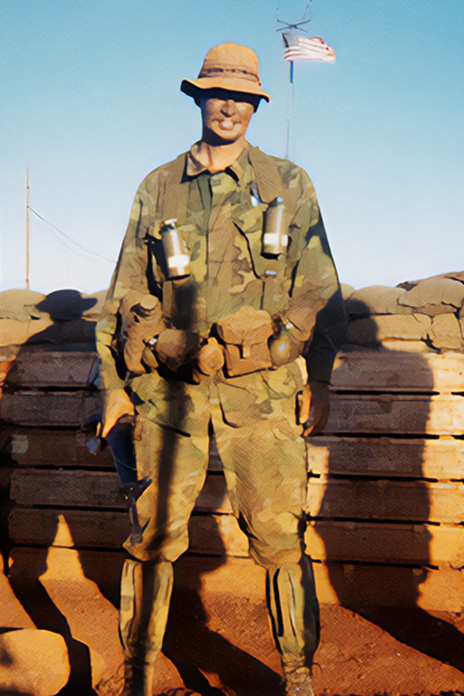 Record date:
Alan Al E. Krause Transcript.pdf
Alan 'Al' E. Krause, Sergeant
Growing up in the tranquil suburb of Oak Park, Al Krause was a mere twenty-four-years-old sergeant when he was deployed to Vietnam. SGT Krause served in the Echo Company, the recon platoon, of the 5th Battalion 7th Cavalry Regiment, 1st Cavalry Division where his job was to, "see but not be seen himself."
Krause was born to a father who was a purchasing agent for a factory, who was exempt from the WWII draft due its production of bomb fins and casings. After Krause attended school in Oak Park, he studied at Miami University in Oxford, Ohio. In 1967, he graduated, moved to Washington D.C. to begin a government job and married his first wife.
Krause was also drafted in 1967 however, his deployment was delayed due to being lost in the mail. He would not receive his orders until 1969 when the Vietnam War had been raging for years. He would then be sent to Fort Bragg, North Carolina and later to Fort McClellan, Alabama, for advanced training.
The pressure was on for him to go to officer candidate school, but he resisted mainly because, "I didn't want to be responsible for sending other men to their deaths, which is what infantry officers do… I'm …surprised that I had that much…self-awareness. I was so young."
Instead, Krause was sent to non-commissioned officers' school in Fort Benning, Georgia. At NCO school, he became a sergeant and received further training in Fort Hood, Texas.
Krause arrived in Vietnam that year, in 1970. The first few days in-country stick out to him. "They put us on a bus, [then] took us on a, I think it was a C-130 [Lockheed C-130 Hercules] airplane. Then when they flew us to this place called Song Be in the Phouc Long province. That was the 5th Battalion 7th Cav's rear area... [On the plane, you] sat cross-legged on the floor and held onto the strap," Krause recalled.
Krause was sent to firebase Snuffy, along the Cambodian border. As part of the recon platoon, Krause spent majority of his time in the jungle. "Our job was to small unit patrol along the Cambodian border, looking for remnants of the Ho Chi Minh Trail and infiltration routes from Cambodia into South Vietnam." Krause said.
The recon platoon was meant to scout out information about the enemy, but on occasion, it was also compelled to engage the enemy in a firefight. One instance was stumbling in a village of Montagnards:
"Ed and I start screaming…'They got weapons, they got weapons. Get down, get down.' …  So, they all hit the deck… these other guys can't shoot because there's women and children and just chaos going around in front of them... So, we got direct line of sight. We're shooting just at these men... Who knows where we shot, but we didn't shoot them. They got their weapons and they disappeared in the jungle. So, then, things quieted down, and we looked around and counting the hooches, there were like well over 200 Montagnards and V.C and NVA here and there's six of us... and we can see these hooches all have bunkers under them…So, then, we said, "You know, we're in big trouble." We're totally outnumbered here." The first thing we did was what they called "Recon by fire." Recon by fire means you don't see the enemy at all, but you fire your weapon anyways. So, we each took a magazine, got into a circle and just sprayed the jungle terrain because we knew these guys had weapons and we didn't know if they were running or circling back."
As the war came closer to an end, Krause was pulled from the front lines and he was ordered to join the 15th Administration Company, where he completed paperwork for those being discharged because they needed people who knew how to type.
Krause's time in Vietnam came to an end after a year of service. He was out-processed in Oakland, California. He returned to Washington, D.C. before attending graduate school at Northeastern Illinois State Teachers College.
Krause said he was conflicted about his time in Vietnam. However, he does cherish one thing that came out of it: friendship.
"I'm proud of the men I served with…I speak to these middle school kids… 'You're really fighting for the man on your left or your right.'"