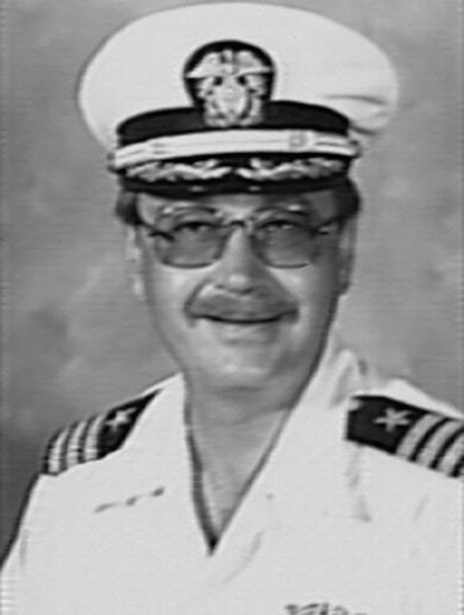 Record date:
In this fascinating oral history, Captain Wass not only recounts his career in the submarine forces but also discusses everything from "Crazy Ivans," to the chemistry, from diesel submarines to drones.
Captain Leonard Wass grew up in the Brighton Park neighborhood of Chicago during the 1940s and 1950s. During World War II, his father served as a "motor mac" repairing the battle fleet in the Pacific. He considers his father, whom he later assisted in mechanical repair of cars, as the first of his four mentors. While his mother worked on behalf of the war effort, his grandmother helped care for him and from her he learned Polish.
Leonard became intrigued with the Navy through television shows such as "Men of Annapolis" and "The Silent Service". The latter of which featured submarines launched out of Pearl Harbor inspired his ambition to become a submariner.
Wass applied to the Naval Academy in Annapolis and was at the top of his congressman's list of appointees. Thankfully, he also received a letter of recommendation from a nun at Saint Joseph High School shortly before she left the order, as the other nuns were reluctant to do so.
The Naval Academy had rigorous academics and a high level of sportsmanship. Wass also benefited from "hands on" experience during the summers where he worked on ships and even learned the basics of flying airplanes. While hazing of midshipmen at the Academy could sometimes be extreme, Wass feels that it helped build resilience, and that he was lucky that "his" senior initiated more playful sorts of pranks. More importantly, values of integrity and determination were taught at the Academy.
In order to get into the Nuclear Submarine Force, all candidates were required to be interviewed by the legendary Admiral Hyman Rickover, father of nuclear propulsion in the US Navy. In his histrionic fashion, Rickover confronted Wass as to why his standing dropped between second and third year of the Academy, even though his ranking only dropped nine places out of 1,100 students. Finally, Wass understood that the point was he should work harder. "I learned from him that the minimum standard of performance is excellence" and for that reason, Wass counts Rickover among his mentors.
After having been accepted to the Nuclear Submarine Force, the first six months were dedicated to nuclear physics and reactor engineering. Then he trained on a land-based reactor and qualified as engineer officer of the watch, the person responsible for functioning of heat, light, and power on the submarine. Finally, at Submarine School he studied "rules of the road", tactics, the firing of torpedoes and the like.
In 1964, Wass was on temporary duty on the USS Runner (SS-476), a diesel submarine, traveling on a public relations tour in the St. Lawrence Seaway and Great Lakes. This provided Wass experience in diving and surfacing without blowing tanks.
He was pleased that he was next assigned to USS Sterlet (SS-392), a diesel submarine, his first choice of ships, in 1966, which indeed left out of Pearl Harbor. The Sterlet conducted top-secret missions which are still classified today but Wass does allow that they were directed against Russia and China's involvement in the Vietnam War, not against the North Vietnamese.
Serving on the USS Sterlet was not for the faint of heart. It was submerged for eighty-five days. Water was so minimal that it was only available for brushing teeth. With a small bottle of rubbing alcohol and a rag, the crew members washed themselves.  There were high levels of carbon monoxide and carbon dioxide so by the afternoon many men suffered headaches. Because of the slow speed of a diesel submarine (about 12 miles an hour for only 30 minutes when the battery was exhausted), there would be no escape should the submarine be detected by the enemy.
Still and all, Wass loved it. He worked with different sections of the submarine to learn how they all operated. Wass appreciated the skipper and saw him a mentor, too.  Not only did Wass learn from him about the submarine's sonar but also about leadership.
Saltwater inevitably causes damage to submarines making the metal brittle so both the USS Runner and USS Sterlet were toward the end of their days after twenty odd years of service when Wass was on duty on them. Still learning how to drive, maneuver, and fight, on diesel submarines prepared him for his next duty on the nuclear-powered USS Kamehameha (SSBN-642). It was equipped with 16 Polaris A-3 intercontinental missiles, each with quite a few MIRV nuclear warheads. Not only did the submarine move more quickly and quietly, it was also more comfortable. Showering was an option. The Kamehameha had two crews, so that the ship could be used non-stop. Wass recognized the skipper there, too, as a mentor teaching him how to work with crews.
Wass explains that being a leader on a submarine, means that one must be capable of problem solving even if the problem does not fall into one's specialty. For example, the officer of the deck must know how to fight fires, flooding, and keep everyone safe regardless of the system involved. Wass also had control over SIOP, Strategic Integrated Operating Plan, and he hoped that he would not be commanded to send warheads against anyone for fear of Armageddon.
Wass both enjoyed the "Star Wars" technology on the Kamehameha, as well as the submariners themselves: their smarts, their self-regulation, and their quirkiness. He remembers one team in the control room listening to war protest music while a sign on the door read, "To Russia, With Love; and "Polaris: For those who care to send only the very best."
After his active duty ended in 1969, Wass studied for an MBA at the University of Chicago and embarked on a civilian career. For the next sixteen years, Wass also served in ACDUTRA, Active Duty Training performed by Reserves for training purposes, often in submarine tenders. He also carried out an array of other activities such as teaching at the Naval College. Since he retired, he volunteers for naval and submarine committees and communities, and chairs the 786 Club which supports the crew and families of the USS ILLINOIS (SSN-786) which is homeported in Pearl Harbor.
Wass urges Americans not to take our liberties for granted and passively allow power to be held in the hands of the very few.  Whether or not in the military, we should all serve as citizen soldiers ensuring democracy.