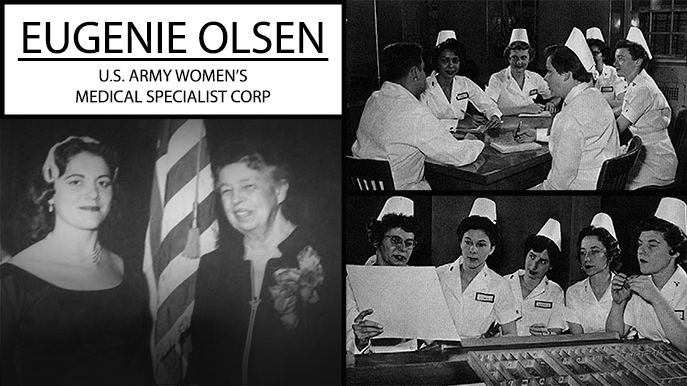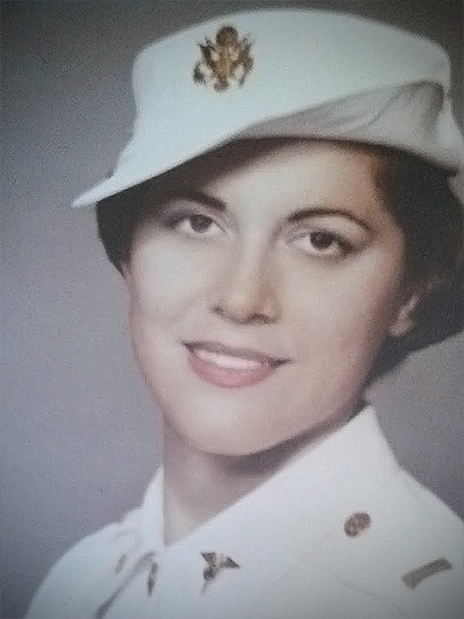 Record date:
Eugenie Fisher Olsen, 1LT
How could have the affable college student, Eugenie, imagine that a sociology course would change the course of her life?  Rather than accept a plum teaching position upon graduation, Eugenie enlisted in the pioneering occupational therapy program of the US Army's Women's Medical Specialist Corps, largely intended to treat injured veterans of the Korean War. Olsen's interview reflects on the social mores of American military and civil society during the 1950s - its possibilities and its limitations.
Growing up in the Bronx, New York, during the Depression, Eugenie enrolled in City College in New York and chose to study what was considered one of the few careers appropriate for women: teaching. One highlight was conversing with Eleanor Roosevelt, whom Eugenie had invited to speak to the college about UNICEF.
Because Eugenie's sociology project required an internship, she chose to volunteer at the veteran's hospital in Bronx. Her advisor encouraged her to apply to the Women's Army Specialist Corps which had embarked on a program to train occupational and physical therapists.
With a sense of adventure and with a desire to help injured veterans, Eugenie set off to the first phase of training as an occupational therapist through a nine-month course at Fort Sam Houston in San Antonio, Texas. Taught by competent instructors, courses ranged from anatomy to crafts. The latter was essential to OTs at the time since their role then was to treat the upper extremities. (e.g. leather lacing for finger dexterity, weaving for shoulder extension).
There was a great esprit de corps and Eugenie marveled at meeting Americans from different backgrounds, such as those who had grown up on farms. Not leaving a stone unturned, the colonel in charge advised the ladies to check with him about the marital status of male medical personnel if in question. The young women also enjoyed their uniforms, especially the dress white one designed in Paris, and they still cherish their yearbook, "To the Winds March."
After Eugenie and her friends hitched a military plane ride to Hawaii, she was sent to Walter Reed Hospital in Washington, DC for clinical affiliation. Having passed her OTR [Occupational Therapy Registered] exam and national service exam, she was promoted to 1st lieutenant and thus began her nine-month practical training.
In contrast to the opportunities that existed in the women's corps, the shadow of racism was not far from the hospital. Eugenie describes the group's outing to a restaurant in Virginia where their Black friend, dressed in uniform, was asked to sit in the back room. The group found their way to "fix' this.
Next 1LT Fisher [Olsen] was assigned to a large hospital in Denver, the Fitzsimons Army Hospital. There she worked with tuberculosis, psychiatric and injured patients in varied ways, such as teaching amputated patients to use the prosthetic hook. She also began to do speech therapy and thus discovered her true métier. In Denver, she was also part of the Army Reserve Medical Unit's MASH after active duty. It was at Fitzsimons Hospital where she met the man whom she later married, Captain Ralph Olsen, M.D.
 After living briefly back home in the Bronx, where she served as a "circulating nurse" in a reserve unit, she and Olsen decided to marry. The couple decided to continue their service – this time in France, an ideal destination for the Francophiles. Olsen was a pediatric doctor at the military hospital in La Chapelle-Saint-Mesmin and Eugenie served as a speech clinician in the Pediatric Department.
Unfortunately, due to Army regulations at the time, the birth of their first child, required that Eugenie resign from the Army, thus ending her military service.
Regardless, she pursued an MA in Speech Pathology and developed her career.  Eugenie and her husband, now Col. Olsen, raised two daughters and two sons; the latter served as colonels in the Army, too.
Eugenie's understanding of a Citizen Soldier is that of the consummate professional. One who volunteers to serve rather than being compelled devotes him or herself to grow professionally. Thus the US has a stronger and better trained force.