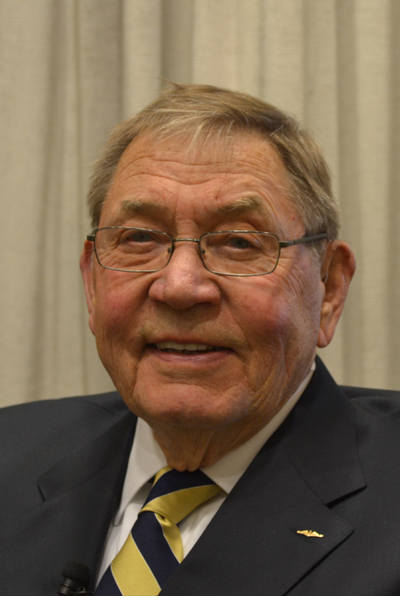 Record date:
Nils R. [Ron] ThunmanTranscript.pdf
Nils R. [Ron] Thunman, Vice Admiral
With a storied career in the U.S. Navy, which even included being mentored and developed by Admiral Hyman G. Rickover, Vice Admiral Nils Ronald Thunman uses his oral history interview to discuss everything from being a witness of the nuclear testing at Bikini Atoll to playing a role in the early days of nuclear propulsion; from becoming a Deputy Chief of Naval Operations for Submarine Warfare to finishing out his career as the Chief of Naval Education and Training in Pensacola, Florida.
VADM Ron Thunman was the youngest of three children, born to Swedish immigrants on February 13, 1932. Upon coming to the United States in 1921, his father enlisted in the United States Marine Corps, serving for four years aboard the USS Maryland, BB-46, before leaving to pursue a civilian life in engineering. While the elder Thunman relocated his family regularly in these pursuits, they finally settled in Springfield, Illinois. While a student at Springfield, VADM Thunman was an all-state football player in his senior year. This eventually led him to be inducted into the Springfield Football Hall of Fame.
After high school, he attended a year at the University of Illinois in Champaign; VADM Thunman was accepted into the United States Naval Academy as a part of the class of 1954. While attending Annapolis, he would command the young John S. McCain while he was there as a midshipman.  In 1954, prior to volunteering for submarine duty, he would serve in the surface fleet as a surface officer assigned to the USS Shelton, DD-790 during the tests at Bikini Atoll in 1956. In 1957, he was given the Command of the USS Marysville, EPCER-857 until 1959 when he volunteered for Submarine Service and reported to Submariner School, New London, CT. He attended the school from January 1959 to June 1959 through the advice of the legendary RADM Wreford G. Chapple. His first assignment was aboard the USS Volador, SS-490, a diesel powered submarine. In 1961, VADM Thunman reported to Nuclear Power Training School and graduated in December, 1961, joining the still new Nuclear Submarine Navy. Initially after graduation, he was assigned to the staff of the United States Naval Nuclear Power School, New London, Conneticut,  as an instructor. Later in 1963, he was transferred to the USS Robert E Lee; SSN-601 (Blue), his many assignments on board the submarine included  Assistant Chief Engineer. In 1964, he then reported to his first command as the Executive Officer, USS Snook SSN-592 under the command of the future Chief of Naval Operations, ADM Jim Watkins. While on board the ship, there was a serious casualty involving the air purification system. This would be one of the catalysts that would cause VADM Thunman to not allow for the growing of beards of his crew at this command and his future commands. In March 1966, he was assigned as the Assistant Program Manager for Nuclear Power Personnel under the direction of ADM Hyman G. Rickover, assisting in the creation of policies and procedures that is still being used in the 21st Century Nuclear Navy. In 1968, he assumed his second command as Commanding Officer of the USS Plunger, SSN-595 until 1971. During this time, he would go on many WESTPAC deployments during the Cold War, where he was highly decorated, and his ship was awarded the Navy Unit Commendation. In 1974, he transferred to Command of the Fleet Ballistic Missile Submarine Squadron 15 in Guam until 1976. After a successful tour there, he would transfer to the Bureau of Naval Personnel, as the Director of Officer Development and Distribution as a Rear Admiral Lower Half. During this tour, he would be in charge of the policies to allow women on ships and further incorporate them into the Navy. He was advanced to the grade of Two Star Admiral and became COMSUBPAC from 1979 until 1981.
He was then promoted to Vice-Admiral and was assigned as Deputy Chief of Naval Operations for Submarine Warfare from 1981-1985. During this tour, he was responsible for the development of the Tomahawk Cruise Missile, Trident II Missile, and the Seawolf Class Submarine. He would also support Robert Ballard's research investigating the loss of submarines USS Thresher and the USS Scorpion. During the final expedition, Robert Ballard would find the sunken RMS Titanic. After a very successful tour, he then transferred in 1985 to become the Chief of Naval Education and Training, remaining there until 1988, when he retired after thirty-four years of service in the United States Navy.
VADM Thunman was interviewed by Captain Leonard Wass, another Naval standout. Captain Wass graduated from the Naval Academy in 1964, serving on submarines as a part of active duty (including during Viet Nam) for five years. Captain Wass spent an additional twenty years with the Submarine Reserves, commanding a unit out of Chicago throughout the 1980s.
Photos of ships from Naval History and Heritage Command website.