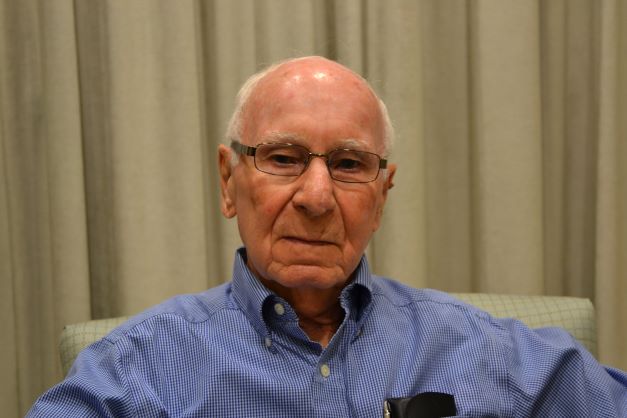 Record date:
Harris Kohn, Lieutenant 
Coming of age in the immediate aftermath of World War II, Harris Kohn found it difficult to relate to the many veterans that filled his college campus. Years later, he would experience the same situation from the opposite side, as he found himself feeling increasingly isolated and alone upon his return from Korea.
Harris Kohn was born on September 10th, 1929 on the North Side of Chicago. He grew up on Hampden Court, spending his younger days at Louisa May Alcott Grammar School. He remembers Chicago during his childhood as being somewhat of a depressed area, like much of the rest of the country during the hard years of the '30s. He recalls the war years as a time of community and oneness, something that he feels has been lost in the decades since. He attended Lakeview High School, playing football there until he suffered a broken leg. After graduating and realizing that he didn't have a future in athletics, he enrolled at a veteran's branch of the University of Illinois at Galesburg in the late 1940s. He then transferred to the University of Michigan where he studied economics, graduating with distinction in 1951. 
The Korean War was now raging, and Kohn received notice from his local draft board that he would soon be called up. Inspired by popular novels like "The Caine Mutiny" and "Mister Roberts", Kohn was determined to serve as a naval officer. He went to the Chicago naval procurement office to try to obtain an appointment to Officer Candidate School. After a close call with the written exam, he was given his appointment and departed for Newport in November of 1951. He remembers the next sixteen weeks as being some of the most mentally taxing of his life, with frequent tests and little time for anything other than studying or work. He was initially given orders for the USS Talladega, a World War II era attack-transport ship, but due to the lack of adequate port facilities in Korea, Kohn's orders were modified and he was assigned to LST-902. LSTs saw widespread use in Korea, as their shallow draft and bow-mounted ramp meant that they did not require ports or docks to offload large quantities of materiel.
During his time on LST-902, Kohn served as a stores officer, a deck and gunnery officer, an operations and communications officer, and finally as the ship's executive officer. He recalls the Korean Defense, Summer-Fall 1952 campaign as being especially chaotic. Tasked at one point with guiding Higgins boats to the shore, he remembers being determined to get in as close as possible, not truly feeling afraid or appreciating the danger until after it was over. He continued to see action with LST-902 through the conclusion of the Third Korean Winter Campaign in April of 1953. LST-902 returned to the United States in 1953, but was back on station in Southeast Asia by the summer of the following year to assist with evacuations following the collapse of French Indochina. Kohn recalls picking up troops of the French Foreign Legion in Hai Phong and transporting them to Saigon, a city that contrasted starkly with the decimated ruins that he had seen in Korea.
Kohn left the United States Navy in the summer of 1955 at the rank of lieutenant. Like countless other veterans, he struggled to integrate into society and readjust to normal life long after the war had concluded. He credits his wife with helping him cope and adjust. Kohn references his Jewish identity and some attitudes toward Jews in the military that he had experienced. He remains tremendously proud of his military service, especially the way he was able to affect change in the lives of the sailors under his command by encouraging them to take advantage of the educational opportunities offered by the GI Bill. He is passionate about volunteer work, and spends much of his time as an English language tutor at Oakton College.