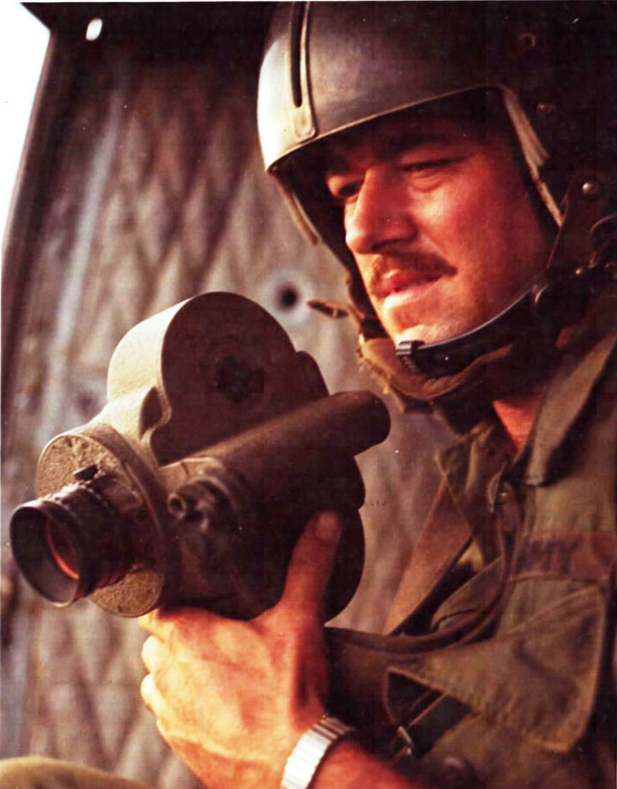 Record date:
Charles W. "Chuck" Abbott, MoPic (Motion Picture Camera Operators) – Specialist 5
Abbott never predicted that his early interest in film, sparked by his father's and grandfather's work as projectionists, would one day take him to Vietnam to cover the war as a MoPic, a motion picture camera operator. Charles Abbott was born in Hammond, Indiana in 1941. His family moved to Illinois in 1944, and he grew up in Lansing. Abbott's interest in photography continued to grow as he matured, and he eventually began to take advanced courses in photography and lighting at Columbia College in Chicago. In 1965, his father suggested that he consider a career in the military to take advantage of the photographic schools that were offered.
Abbott enlisted in the United States Army on Aug. 1, 1966, enrolling in the motion picture school at Fort Monmouth, New Jersey after he completed basic training at Fort Campbell, Kentucky. It was there that he received the instruction and the experience for which he had been searching. Abbott did not receive orders after completing motion picture school, but with the help of his commanding officer he was able to obtain an assignment to the Department of the Army Special Photographic Office (DASPO), based out of Ft. Shafer, Hawaii, the Army Command of the Pacific, located in a mountain range between Honolulu and Pearl Harbor. Three DASPO Pacific set-up teams also existed in Saigon, Vietnam, in Bangkok, Thailand and in Seoul, Korea.
DASPO personnel rotated on ninety day duty assignments. After their completion, they returned to Hawaii for seven - ten days, where they would either be scheduled to return to the same team from which they left, or assigned to one of the two other teams. A team of 'MoPics', motion picture camera operators, charged to do still photos, could be sent anywhere within 24 hours.
DASPO Pacific was primarily responsible for documenting the war in Vietnam. Abbot arrived in Hawaii in May of 1967, just as the conflict in Vietnam began to heat up. It was there that Abbott received supplemental training on how to film from helicopters using a stabilized apparatus known as a Tyler mount, as well as qualification training for the M1911 .45 caliber pistol, a required piece of equipment for DASPO cameramen. He served as a 'MoPic' in Vietnam rising to the rank of Specialist 5. During his tenure with DASPO, he filmed everything from military storage facilities for materiel and ordnance to the aircraft carrier USS Forrestal. On the front lines of Vietnam, he documented the lives of soldiers in the field, capturing the good moments along with the bad. The DASPO photo group was inactivated in 1974 in the wave of post-Vietnam demobilization. The inside access and knowledge of military life that Abbott and other DASPO cameramen had, allowed them to show life in Vietnam as it truly was for those experiencing it.
Glimpses of his work as well as that of other DASPO photographers can be seen in the web exhibition, Capturing the Faces of War.