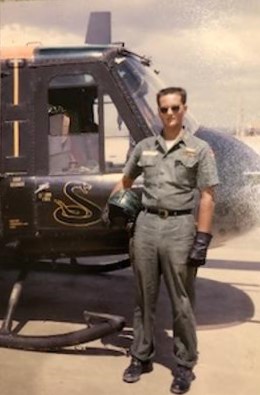 Record date:
John Mateyko, LTC
LTC Mateyko may facetiously attribute his desire to train as a helicopter pilot to the sleep deprivation that he experienced in artillery Officer Candidate School. Yet rescuing an artillery unit that got hit badly in Vietnam War, and co-piloting a helicopter that took a bullet, are certainly not for the faint of heart. LTC Mateyko vividly and frankly recounts his deployment to Vietnam, his ensuring deployment to Germany during the Cold War, as well as his twenty-three year US Army Reserves, in Traffic Management Command. His interview also reflects upon questions such as, "What makes a good leader?"
John Mateyko was born in Hammond, Indiana on September 18th, 1940 and he grew up in Calumet City, Illinois. After high school he attended the U.S. Merchant Marine Academy in Kings Point, New York for two years and then completed his bachelor's degree at Indiana University. Mateyko entered the artillery OCS [Officer Candidate School] at Fort Sill, Oklahoma through the College Option 
Lieutenant Mateyko graduated from Fort Sill in March of 1964 and was a ground instructor until October.  He then entered Primary Helicopter School at Fort Wolters, Texas.  Mateyko earned his wings at Fort Rucker, Alabama in June of 1965 and remained as an instructor pilot.  
In August of 1965, Mateyko deployed to Vietnam with Company A, 501st Aviation Battalion at Biên Hòa. Mateyko went on to the 205th Aviation Battalion in Germany. For 1968-1992, Mateyko remained in the Army Reserves, in Traffic Management Command. When he was promoted to lieutenant colonel, he was reassigned to the Pentagon. He received several awards, including the Distinguished Flying Cross, Purple Heart, twenty-eight air medals and the Vietnamese Cross of Gallantry.  Mateyko is a member of the Military Officers Association of America, Military Order of the Purple Heart and Rattler-Firebird Association.