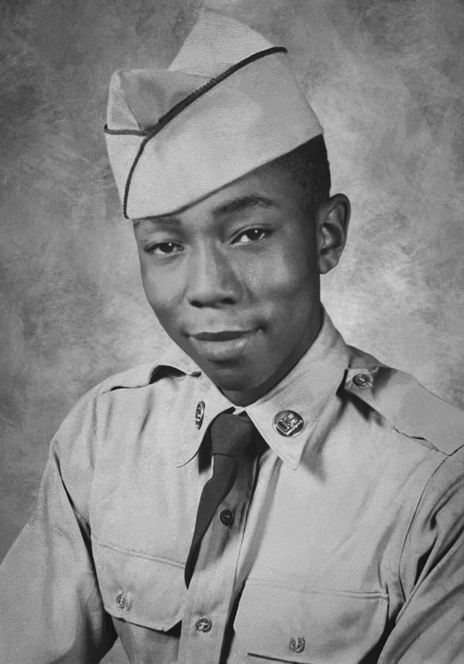 Record date:
John H. Perry Jr. PFC, US Army
In John H. Perry's interview, one sees a clash between frost and fire on the Korean peninsula in the early 1950s. The bitter cold left American men and equipment freezing. North Korea, on the other hand, while better equipped and accustomed to the cold weather, faced the fiery heat of American napalm along with the destructive power of American bombing campaigns. Perry describes the napalm strikes as being so close to him that he could feel the heat they emitted.  
Perry was born in 1932 in Waukegan, Illinois. He had one sister and one stepbrother. Perry's mother died in the 1930s while Perry was still a child. His father worked for the Northshore rail line and later worked in Glencoe taking care of orchids. Perry received his middle school education at a strict boarding school in Milwaukee. There he played basketball and enjoyed history classes. Perry's education was cut short at the end of seventh grade when he enlisted in the US Army at the young age of sixteen.
Perry was not the first in his immediate family to have served. His father had served in World War I and Perry's uncle on his father's side served in the Spanish-American war. While his family had a military background, they did not discuss their experiences with young Perry, as he was always asked to leave the room when such grown-up conversations took place.
Perry spent his first eight weeks at Fort Knox for basic training and subsequently spent sixteen weeks attending jump school at Fort Benning, Georgia. It was there Perry learned to parachute and earned his wings while training with the 11th Airborne Division.
Perry's airborne career was short lived, however, as the US Army, in desperate need of ground troops, transferred Perry into the 45th Infantry Division. Upon completion of specialized training at Fort Benning, Perry was shipped by rail to Seattle, Washington and then by boat around Alaska and straight into Korea. Shortly after Perry's arrival to the Korean theatre, he received a battlefield commission and was put in charge of a nine-man squad. Perry partook in numerous battles such as the Battle of the Chŏsin Reservoir and the Battle of Old Baldy.
Perry described his experiences with the bitter cold in the winter months of the Korean War. The Chinese and Korean army were, unlike American forces, equipped and accustomed to the cold weather of the Korean winter. Perry explains that he and his men had to keep moving and keep dry to avoid succumbing to frostbite or hypothermia. Furthermore, equipment such as weapons and radios would freeze and become nonoperational. 
Perry did not like to go by the book. He instead strongly believed in using patience and observation before acting. This mindset may have saved him and his men's lives when he was ordered to advance on a position that Perry suspected of containing mines. Disobeying orders, he took an alternative route. For this he was court marshaled, however, the charges were later dropped.
After the Battle of the Chŏsin Reservoir concluded, Perry aided in transporting the dead and wounded to ships headed back to the States. He was then transferred to Japan where he served during the remainder of the war. Perry's service ended in 1953.
After serving in the Army, Perry was employed by the Cook County Forest Preserve where he worked in maintenance for fifty years. He aided in projects such as the construction of the Chicago Botanical Garden. Perry stressed that there are not many Korean War veterans still alive today and many of their stories have yet to be heard. Perry is a grandfather of seven, currently retired and living in Waukegan Illinois.