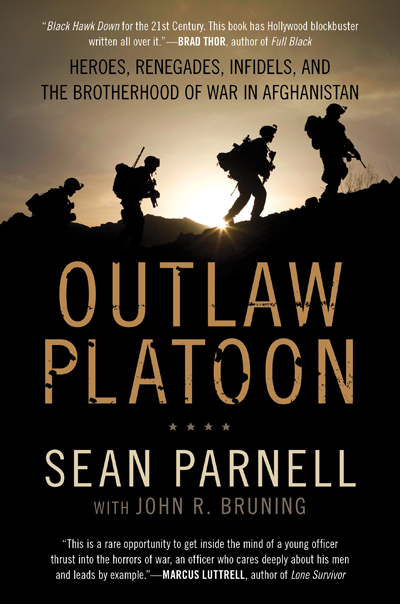 Record date:
Sean Parnell: Outlaw Platoon: Heroes, Renegades, Infidels and the Brotherhood of War in Afghanistan.
Outlaw Platoon follows the story of author Sean Parnell's service with the U.S. Army's 10th Mountain Division and their heroic stand in the mountains of Afghanistan.
Sean Parnell is a former U.S. Army Airborne Ranger who served in the elite 10th Mountain Division for six years and veteran of 485 days of fierce fighting along the Afghan-Pakistan border. Parnell's leadership skills welded his platoon into one of the most fierce and effective American fighting units in modern military history. Repeatedly outnumbered and outgunned, his platoon battled furiously in the most rugged terrain on the planet—the towering Hindu Kush Mountains. Eighty-five percent of his platoon received Purple Hearts for wounds incurred in battle, but his men gave far more than they received. His platoon killed over 350 enemy fighters in some of the biggest firefights of the Afghan War. Parnell retired as a captain and received two Bronze Stars (one for valor) and a Purple Heart.
He was wounded in action on June 10, 2006 when his platoon was nearly overrun for the first time by a force that outnumbered them almost ten-to-one. Refusing to leave his men as they battled the enemy at point-blank range, Parnell was knocked unconscious and wounded two more times during the firefight. Each time, he returned to his feet to lead his men again.
He is currently working on his Ph.D. in clinical psychology at Duquesne University. He lives with his wife and two children in Pittsburgh, Pennsylvania.