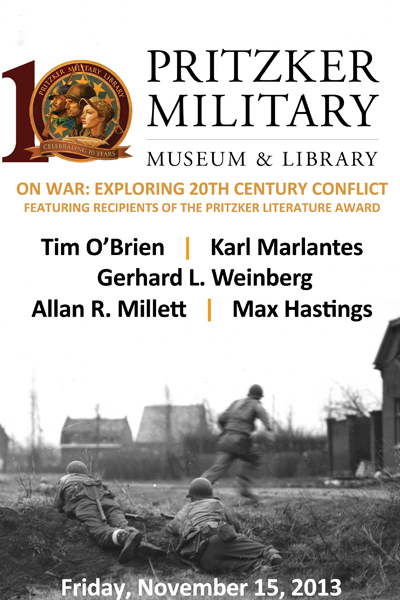 Record date:
2013 ON WAR Military History Symposium Anthology
This anthology covers four discussions from the Pritzker Military Museum & Library's On War: The Best Military Histories featuring Tim O'Brien, Karl Marlantes, Allan R. Millett, Gerhard Weinberg and Sir Max Hastings.
Vietnam Combat Novelists, Writing for Peace: Featuring a discussion between Tim O'Brien and Karl Marlantes, this program explores both author's experiences in Vietnam and how they translated into writing.  The authors discuss literature, war, politics, and writing.
Interview with Allan Millett by Paul Herbert, The War for Korea, 1950-1951: In this program Paul Herbert, Executive Director of the First Division Museum at Cantigny park, sits down with military historian Allen Millett for an exclusive interview.
Interview with Dr. John Allen Williams and Gerhard Weinberg, Big Men of World War II: Moderated by Dr. John Allen Williams who joins Gerhard Weinberg for an in-depth discussion on the major players in World War II, and the effect each had on the war that changed the world.
Author discussion, Catastrophe 1914: Europe Goes to War: In this exciting program Sir Max Hastings gives the audience a sneak peak into his new book, Catastrophe 1914: Europe Goes to War. Hastings explains a conflict different from the familiar one of barbed wire, mud, and futility. He traces the path of war pointing out reasons why Germany and Austria were primarily to blame. Hastings also gives assessments of generals and political leaders involved and analyzes the political causes that lead to war.