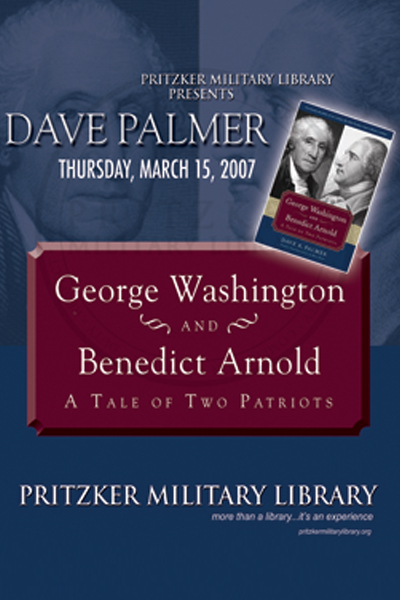 Record date:
David Palmer: George Washington & Benedict Arnold: A Tale of Two Patriots
Dave R. Palmer discusses two of the most readily recognized American military leaders from the Revolutionary War period in his book, George Washington and Benedict Arnold: A Tale of Two Patriots.
Palmer explores these two legendary leaders of the early American Army, and seeks to help understand how one became among the greatest of American heroes, while the other's name became a synonym for treachery and betrayal. In an interesting dual biography of Washington and Arnold, Palmer, a military historian and former superintendent of West Point, examine the life and accomplishments of George Washington with that of Benedict Arnold. In this book, Palmer explores Benedict Arnold as one of the few biographers to provide this focus and insight.

Benedict Arnold was an ardent and true supporter of the American Revolution and had clearly demonstrated his abilities and bravery on the battlefield. He and Washington shared many traits, experiences and challenges. Benedict Arnold, the twice battle-wounded victor at Fort Ticonderoga, and the leader of the invasion of Canada, and victor at the battle of Saratoga is a proven patriot. Washington, as the commander of the Continental Army, saw Arnold as a true fighting soldier  who was often overlooked by Continental Congress and attacked by his political detractors. Washington rose above his enemies; both in Congress and the battlefield, but Arnold became embittered by his critics. George Washington and Benedict Arnold: A Tale of Two Patriots is a story that few Americans know, and unveils a part of American history all should know and understand.

Dave R. Palmer is a retired lieutenant general of the United States Army, two-tour veteran of Vietnam, former superintendent of West Point, and accomplished military historian specializing in the campaigns of George Washington and the eighteenth-century American army. He often appears as a commentator in television documentaries on the Revolutionary War period and its generals and is the author of many books, including The Summons of the Trumpet: U.S.-Vietnam in Perspective; The Way of the Fox: American Strategy in the War for America, 1775-1783; and George Washington: First in War. A graduate of West Point and Duke University, Palmer lives with his wife in Belton, Texas.