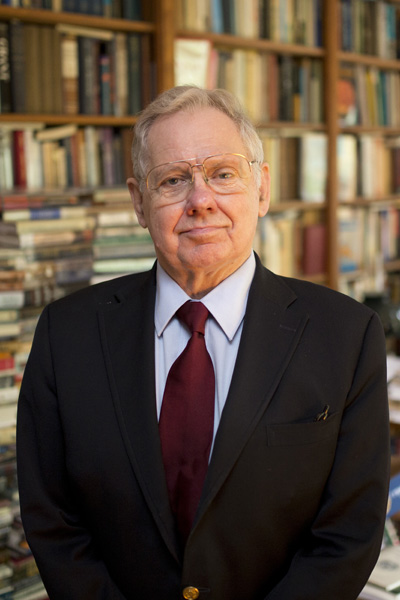 Record date:
Symposium - David Fischer transcript.pdf
Six Generations of African-American Warriors, 1739–1914
Pulitzer Prize-winning author and Pritzker Literature Award recipient David Hackett Fischer previews his newest book on the lineage of African American warriors in early American history.
This episode was filmed as part of the 2016 ON WAR Military History Symposium in November 2016.
IN 1739, The British colony of South Carolina was rattled by a slave uprising that resulted in the death of sixty people. The revolt was led by an Angolan Slave named Jemmy, along with a band of twenty slaves who organized the rebellion on the bank of the Stono River.

The men, many seasoned soldiers from their lives in Angola, had been trained in the use of weapons and had organized into a rough militia. Equipped with guns, flags, drums and the pursuit of freedom, the small militia grew to about 100 individuals intent on marching to the Spanish colony in St. Augustine, Florida, where they would be free under Spanish law.

Much of the lineage of Angola-Americans today can be traced to the early slave trade of the 17th century when trained soldiers from the Congo-Angola region found themselves forced into slavery throughout the New World.

Through extensive research in Africa, eye-witness historical accounts and stories of early American slavery, David Hackett Fisher's forthcoming book explores the lineage of valiant  African American soldiers in 19th and 20th-century conflicts to the warriors of Angola, to emphasize the important influence they played in American military history.

DAVID HACKETT FISCHER was born and raised in Baltimore, Maryland, where his father was superintendent of schools. A graduate of Princeton University (A.B., 1958) and the Johns Hopkins University (Ph.D., 1962), Fischer is University Professor and Earl Warren Professor of History at Brandeis University in Waltham, Massachusetts, where he has served on the faculty for more than 50 years. A recipient of numerous teaching awards over his long and distinguished career—including the 1990 Carnegie Prize as Massachusetts Professor of the Year and the Louis Dembitz Brandeis Prize for Excellence in Teaching—Fischer has held visiting professorships at Harvard University, The University of Oxford, the University of Washington, and several institutions in New Zealand. He and his wife, Judith Hummel Fischer, have two children and two grandchildren.