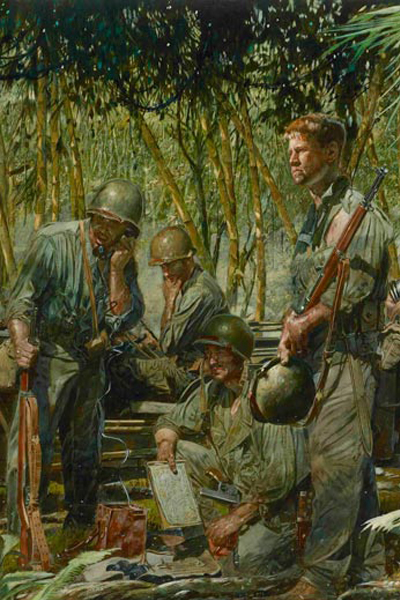 Record date:
The 132nd Infantry Regiment on Guadalcanal: Featuring Artist James Dietz and Author Richard Frank
In a special program celebrating the unveiling of The Crossing, artist James Dietz and historian Richard Frank discuss with moderator Paul Hastings the history of Illinois' 132nd Infantry Regiment and its important role in the pivotal WWII Battle of Guadalcanal.
JAMES DIETZ is a historical painter who strives to depict the story behind his paintings. Dietz uses the combination of people, their actions, costumes, surroundings, and the atmosphere throughout his compositions to create the semblance of historical fact, adventure, and romance. 
RICHARD FRANK is a lawyer and military historian. Frank spent four years in the U.S. Army after graduating from University of Missouri. During the Vietnam War, he served one tour as a platoon leader in the 101st Airborne Division. Frank has written several books and articles on the Pacific Campaign of WWII including Guadalcanal: The Definitive Account of the Landmark Battle and Downfall: The End of the Imperial Japanese Empire.
COL. PAUL HASTINGS, ILARNG (RET.), served 30 years as an officer in the Army National Guard. Prior to his retirement in 2013, he was as commander of the 33rd Infantry Brigade Combat Team, Illinois Army National Guard. He was commissioned in the Infantry through Army ROTC at Texas A&M University in 1983 and has served in the Army National Guard in Texas, Pennsylvania, and Illinois. He is also a career financial regulator for the FDIC commissioned in bank examination, compliance, and liquidation.