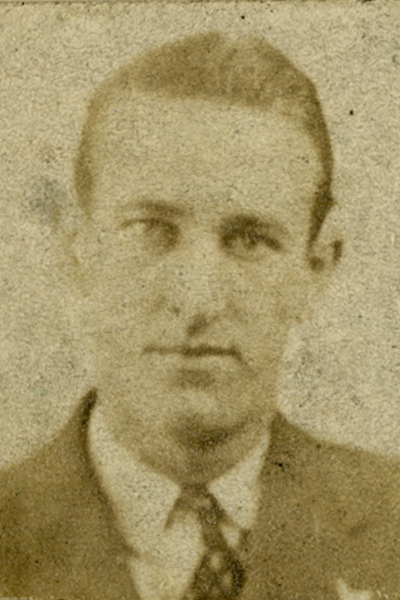 Record date:
Robert "Bob" Maroney, Merchant Marine 
Robert Maroney served from 1942-1946 in the U.S. Merchant Marine, a link in the vital support chain for American troops and their allies during World War II. 
Robert Emmett Maroney was born October 27th, 1919, and grew up on the west side of Chicago during the Depression. In the months leading up to the war, and then following the attack on Pearl Harbor in 1941, all three of his brothers enlisted in various branches of military service. Bob enrolled in the Merchant Marine. Training in St. Petersburg, Florida, and New York City, Seaman Maroney received certifications as Fireman 3rd class, Wiper, and "Lifeboat Man." Throughout the War, he served mostly as fireman-water tender and oiler in the engine rooms of thirteen different ships. Those vessels, usually traveling in groups, or convoys, delivered essential supplies – including food, fuel, bombs, and ammunition – to troops in places as varied as Puerto Rico, England, France, the Netherlands, Italy, and even Germany. Danger and death always loomed large, especially at sea. On February 22nd, 1943, while part of a convoy in the Mediterranean, Maroney's ship was torpedoed by an Axis submarine. Several runs later, in 1944, he called home during a shore leave and learned that his older brother, William, a Sergeant in the Army's anti-tank division, had been killed weeks earlier in combat near Saint-Lô, France, following the Invasion of Normandy. After what he thought would be his final assignment – a supply run to Yugoslavia in 1946 – Robert returned to the United States. But when the impending Korean War led to the U.S. Army's call-up for registration, he chose instead to return to sea for further service with the Merchant Marines. Eventually Bob did return home, though, and made his post-military career in sales.  
Throughout the interview, Maroney expresses the distinctive nature of life in the U.S. Merchant Marine, and speaks not only of the structure and schedule of ships and convoys, but also of the branch's less-regimented ways; ways that led to a unique, strained relationship with other military branches. Although the Merchant Marine was under the jurisdiction of the Navy during the war, as was the Coast Guard, Maroney emphasizes how, during the war and even today, his branch is often viewed as separate from the U.S. Armed Forces. For example, Merchant Mariners were not included in the G.I. Bill, and were denied veterans benefits up until 1988. Few people realize that the Merchant Marines suffered the highest casualty rate of any service branch during World War II.
Using his colorful story as a testament, even as the last of the World War II Merchant Marine veterans pass on, Mr. Maroney argues for increased respect and benefits for the Merchant Marines because, as he says, they earned it.