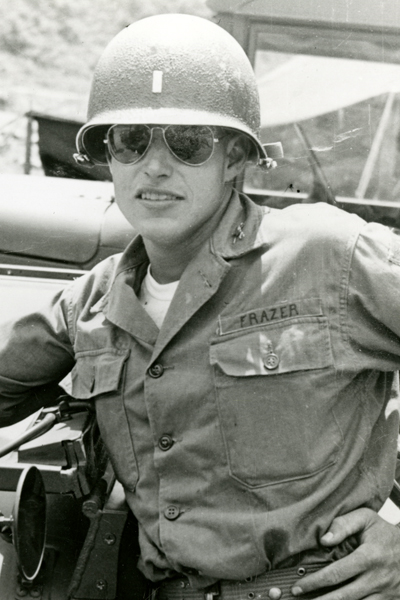 Record date:
Nimrod "Rod" Frazer, First Lieutenant, United States Army
Following service in the Alabama State Guard and a post-war enlistment in the Alabama National Guard, Rod Frazer earned his commission as an armor officer at Fort Knox' Officer Candidate School. Following an assignment with the 82nd Airborne Division at Fort Bragg, North Carolina, LT Frazer volunteered for duty in Korea where he led a U.S. tank platoon supporting Republic of Korea (ROK) units in a series of defensive and offensive operations at "the Punchbowl" and during hard fought hill fights in the closing months of the Korean War. LT Frazer's valor and leadership under constant bombardment and ground assaults were recognized when he was awarded the Silver Star.
Rod Frazer was born in Montgomery, Alabama on December 10, 1929. As a child, he listened to his father's stories of his World War I service in the 42nd "Rainbow" Division. Hearing those stories and reading the unit's published history instilled a sense of duty and honorable service in Rod from a young age. Although too young to serve on active duty during World War II, Rod joined the Alabama State Guard at age fifteen and the Alabama National Guard at age seventeen.
Rod had completed a three year enlistment in the Alabama National Guard and had been discharged while  attending Huntington College in Montgomery, Alabama. Events on the Korean peninsula following the Democratic People's Republic of Korea's invasion of the Republic of Korea caused President Truman to declare a national emergency. Rod enlisted in the Army on December 17, 1950 and attended basic training at Fort Jackson, North Carolina. Rod's exemplary performance in training earned him his regiment's only slot at Third Army Leaders Course. Rod received non-commissioned officer's training, learning to lead and train; Rod trained National Guard junior enlisted personnel. Once again, excelling at an Army course earned Rod the opportunity to appear before an Officer Candidate School Board. Asked for a branch choice, Rod's choice was armor branch. Rod was selected to attend the first OCS class conducted at Fort Knox.
Second Lieutenant Frazer met Major John Eisenhower and Captain George Patton IV, sons of Generals Eisenhower and Patton during his Fort Knox training. Both officers were attending the Armor Officer Advanced Course while Frazer completed his OCS.
2LT Frazer was assigned to the 44th Tank Battalion, one of the 82nd Airborne Division's armor battalions. Following Airborne School, 2LT Frazer initially enjoyed his assignment at Fort Bragg, where he was mentored by many quality leaders who shared with him their hard-earned experience forged during World War II. 2LT Frazer enjoyed serving in a unit with a storied past, in which esprit de corps was evident and maintaining high standards was demanded.
2LT Frazer eventually volunteered for duty with Far East Command (FECOM), hoping for an assignment to the 187th Airborne Regimental Combat Team. 2LT Frazer was assigned instead to 40th Infantry Division's 140th Tank Battalion in Korea, where he reported in November 1952. The 40th Division was rotating many of its National Guard personnel back to the United States at this time. 2LT Frazer commanded an armor platoon of M46 tanks. Following a rotation into the front lines on the northwest side of "the Punchbowl", 2LT Frazer worked to improve tank crew proficiency at Dodge Range Tank Training Range located between Chuncheon and the Main Line of Resistance (MLR). He commanded the small unit there.
2LT Rod Frazer's Story of Service is highlighted by intense close quarters combat first at Hill 812 and "Luke's Castle" and later at nearby Hill 755. These two extended tours in the front line were marked by continuous artillery and mortar bombardment interspersed with NKPA (North Korean) ground assaults against US/ROK hilltop defensive positions. Defending these key hills strained 2LT Frazer, his men and the ROK infantry units they were supporting to the breaking point. He was promoted 1st Lieutenant in February 1953.
Following the July 27, 1953 Korean Armistice Agreement, LT Frazer was awarded the Silver Star by Command of Major General Ridgley Gaither for his valor and leadership during these hill fights. Returning stateside, Rod completed his education. He attended Columbia University and later graduated from Harvard University's MBA program before entering a successful business career that would later allow him to become a philanthropist and to fulfill his interest in history.
Rod's lifelong passion for remembrance of Alabama's World War I Rainbow Division veterans has led him to energetically perform extensive service to the Rainbow Division and later to the United States World War I Centennial Commission as Honorary Chairman of the Alabama WWI Centennial Committee. He first commissioned the Rainbow Division Memorial, a bronze sculpture by James Butler, R.A., that was erected in 2011 on the 1918 Croix Rouge Farm battlefield, in Fère-en-Tardenois, near Château-Thierry.  There generations can remember the bravery and sacrifice of the 42nd Division soldiers who fought during the 2nd Battle of the Marne.  A year later, he donated the statue and land to the town.  He donated a second identical bronze statue to the city of Montgomery on August 28, 2017, to commemorate the departure of the 167th (Alabama) U.S. Infantry regiment, 84th Brigade, 42nd "Rainbow" Division, for combat in France.  That same year, he had donated the statue "Daedalus", also by James Butler, R.A., to Maxwell Air Force Base to honor the U.S. Air Service in World War I. Rod has written two books, "Send the Alabamians: World War I Fighters in the Rainbow Division" and "The Best World War I Story I Know: On the Point in the Argonne September 26 – October 16, 1918".   Pritzker Military Presents features Frazer's televised talks on "Send the Alabamians" and on "The Best World War I Story I Know".