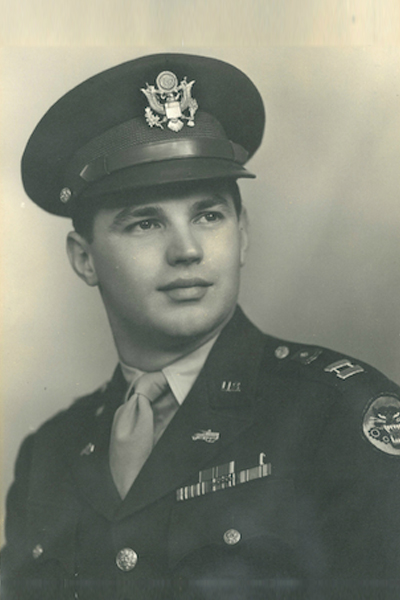 Record date:
Richard "Dick" Duchossois, Major, United States Army
Major Duchossois is a native of Chicagoland, Illinois, born on October 7th, 1921. He attended Morgan Park Military Academy in Chicago for his high school education, an experience he cites as formative and invaluable to his later military service. The academy's training and education focused on discipline and duty, two characteristics made clear in Duchossois's interview. Upon graduation, Duchossois's expertise qualified him to be commissioned as an officer in the U.S. Army Reserve automatically. Duchossois began his undergraduate degree for one year at Washington and Lee University in Lexington, Virginia when he was called to duty in World War II in 1942 following the attack on Pearl Harbor.
Duchossois was commissioned as a 2nd Lieutenant in the infantry and reported to Camp Robinson in Little Rock, Arkansas, for training. He served most of his duty, however, with the 610th Tank Destroyer Battalion, which he notes in his interview was a relatively new phenomenon in the United States Army at the time. As a result, Duchossois comments that he was largely in charge of making decisions for his company since leadership was not necessarily perfected at the commencement of the United States' participation in WWII. Duchossois was subsequently responsible for numerous decisions made in combat and rose through the ranks of the Army to Major upon the cessation of his service.
As commander of Company C of the 610th, Duchossois traveled to England in the spring of 1944 for service. Following the arrival of General Patton's 3rd Army, the 610th was attached to the 3rd Army's 80th division. Duchossois speaks extensively of service under General Patton, noting how Patton's attitude towards service and their opponents filtered into the rest of the servicemen.  Duchossois and the 610th first encountered heavy combat at Argentan, France.
Duchossois was injured during combat at the Moselle River; he was hospitalized in Paris until December. This injury did not, however, end his service, and for this, he received a Purple Heart. In his interview, Duchossois notes that, as a sign of respect, his troops met him at the hospital to escort him back to the front for service. Duchossois served in a total of five European campaigns during his three-year service, in fact, and was released from active duty in 1946. His service included many other notable locations such as Normandy, France, as well as key battles such as the Battle of the Bulge.
Upon his return to the United States, Duchossois began working at his father-in-law's business, manufacturing train cars. Duchossois became quite well-versed in business, evident in his interview as well given the commonalities he commonly draws between war and business operations. By the 1980s, Duchossois owned both the Arlington International Racecourse as well as Duchossois Industries.
In addition to his business endeavors, Duchossois is on the Board of Trustees for the National World War II Museum in New Orleans, Louisiana, and is integral to the development of the museum's exhibits. Duchossois is also the recipient of numerous awards for both his military service as well as business prowess. He currently lives in the Chicagoland area with his wife Mary Judith Duchossois. He is the father of four children and grandfather to thirteen.