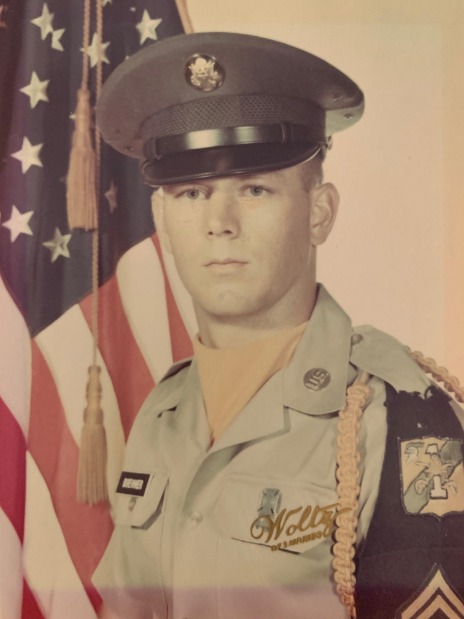 Record date:
Steve Boehmer, Sergeant
Steve Boehmer always imagined a career working with vehicles. But he never expected to be commanding an armored personnel carrier amid firefights in Southeast Asia. From his childhood days, Boehmer planned to join the automobile shop his father and grandfather ran in Wauconda, Illinois. In college, he even majored in automotive technology to prepare for it. But with the Vietnam War raging as he graduated, Boehmer wanted to avoid the uncertainty of the draft, and he was intrigued by the promise of Officer Candidate School. In 1967, he decided to join the U.S. Army.
The Boehmer family was hardly unfamiliar with military service. When Steve was born in Texas in 1945, his father was finishing his own time in the Army during World War II. As a result, there was no question of which service branch the younger Boehmer would choose to join. After enlisting, he was sent to Fort Knox, Kentucky for basic training and advanced individual training in armor. At Fort Knox, Boehmer's secondary duties included staffing military funerals and guarding the U.S. Bullion Depository. But as base life grew tiresome, he volunteered to serve in Vietnam. 
After arriving in Southeast Asia, Boehmer joined the 11th Armored Cavalry Division, commanded by George Patton IV. Despite his armor training, Boehmer was assigned to an A-CAV armored personnel carrier. As part of Troop G, 2nd Squadron, he deployed to the "Parrot's Beak," a region of southwest Vietnam rife with Viet Cong activity. In weeks-long missions, Boehmer and his men would patrol deep within the jungle, warding off ambushes and mines. Some assignments took them across the border into Cambodia, where U.S. troops worked covertly to disrupt the Ho Chi Minh Trail that supplied Communist forces. In other missions, Boehmer and his men participated in "thunder runs," leading heavily armed convoys along the critical and contested Highway 13 northeast of Saigon. When his team would return to Blackhorse Base Camp, Boehmer put his automotive skills to use repairing his A-CAV to return to combat.
Amid hostile country, many of Boehmer's missions turned hairy. Attacks often came without warning and from multiple directions, a challenging predicament for armored personnel carriers designed to engage facing forward. As a platoon leader, Boehmer grew accustomed to leading his men through chaotic situations. "You always left an option there to protect yourself," he recalls. "Most often it worked. Sometimes it didn't work very well. But every day was a different situation." In one particularly arduous mission, Boehmer's column was attacked in dense, triple canopy jungle. When a rocket propelled grenade explosion left a fellow soldier exposed in the road, Boehmer raced to his aid. But as he moved, Boehmer's own APC was struck by an explosion, sending shards of wood into his leg. Undeterred, he retrieved his exposed comrade and returned to his vehicle. After being taken to a field hospital, Boehmer discovered that a fifty- cent piece in his wallet, a good luck charm given to him by a family friend in Illinois, had stopped shrapnel from tearing apart his leg.
After eleven months in Vietnam, Boehmer returned to the States. Upon arriving in Oakland, he was warned to stay in civilian clothes to avoid jeers from anti-war crowds. The transition back was difficult, especially as no one at home seemed able to ask or talk about what he had experienced in the service. But Boehmer stuck by his plan to join the family business. After decades as a successful businessman and community leader, he retired in 2013 to enjoy time with his wife and daughter. While Boehmer used to be reluctant to talk through his war stories, he now finds sharing them to be helpful in processing his time in the service, and he encourages everyone to make space for the veterans they know to share their own memories.