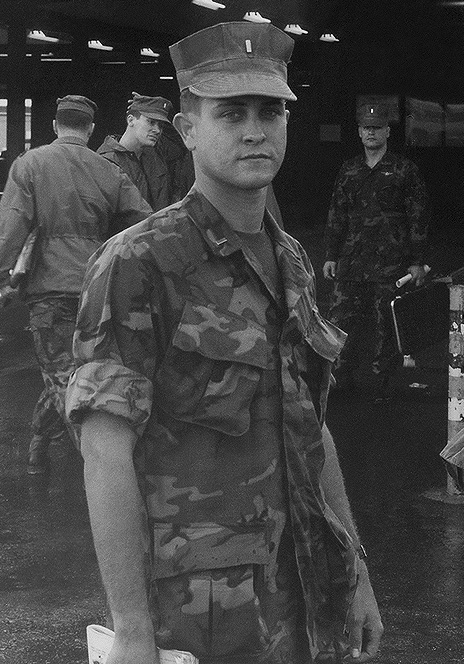 Record date:
C. Paul Barker
In a fascinating two-part interview, Paul Barker recounts growing up as an artistic kid and Tarzan wannabe in New Orleans until donning the Marine Corps camouflage "tree suit" and hearing the enemy personally threaten him by name on his own radio during combat in Vietnam. In his second part, he presents artifacts and photos.
Paul was born in 1947 and grew up in a large extended Catholic family. He involved himself in the anti-Vietnam War movement in his college years at the University of Dallas where he received a B.A. in Fine Arts, in 1969. Shortly before graduating, he got his draft notice and was torn between his family's military tradition and his disagreement with the government's explanation for the War. But he saw the military service as a rite of passage into manhood, and joined the Marine Corps, serving for three years with the 3rd Division on Okinawa and the 1st Division in Vietnam.
Training at Quantico, he took language classes in Vietnamese and later completed Jungle Warfare Training with the 3rd Marine Division. 4th Regiment, 2nd Battalion, Fox Company, on Okinawa as an infantry lieutenant. He was transferred to the 1st Marine Division and served as Commander of the 3rd Platoon Kilo Company of the 3rd Battalion, 1st Regiment in the mountainous region around Da Nang. His area of operation extended from the Túy Loan River in the south to the Hải Vân Pass in the north where his unit supported the South Vietnamese Army's invasion of Laos.
He was never a "by the book" officer with his troops, allowing for a hippie aesthetic as long as their combat readiness was not compromised. In spite of his strong wishes to stay with his platoon in the field, he was transferred to become the executive officer of the Headquarters and Services (H&S) Company, pulled from the field on his birthday, coincidentally, the day he advanced from 2nd Lieutenant to 1st Lieutenant. The 81mm mortar platoon at that time functioned as a catch-all for the Battalion's drug-addicted troops, malcontents, and Marines awaiting trials by court martial. His responsibility was to the police the men themselves while avoiding hand grenades while he slept. Another role was serving as pay officer for H&S Company which meant taking a Huey to remote firebases all over northern I Corps, with an armed guard, a ledger and ammo cans of cash.
He was fascinated by the beauty of the coastal landscape of central Vietnam which inspired the collection of precious photos he was able to take during his time in country, and in his second interview he presents these photos with explanations.
Barker returned to Camp Pendleton with the 1st Marine Division, where he was rewarded by this commanding officer for transforming the 81mm mortar platoon into a highly skilled unit. He was given the job of S2, (security officer) at the 1st Recon Battalion where he supervised training missions such as Operation Cable Run III in the Tonto National Forest of Arizona.
He was discharged in 1972 and later promoted to Captain in the Reserves. He discovered his love for the teaching aspect of his job in the military. Subsequently, he pursued a teaching career in British Columbia, California, and Illinois. He later became a cabinetmaker and also began painting murals for museums, zoos, and aquariums all over the U.S., including the National Museum of the Marine Corps outside of Quantico.
Twenty years later, he returned to Vietnam for two months in 1992 with a veteran's group, to build a clinic outside of Saigon. His exposure to the defoliate chemical Agent Orange during the war at Hải Vân Pass resulted in a diagnosis of Parkinson's Disease. In spite of the tremor in his left hand, he continued to paint murals until a tremor appeared in his right hand, as well. 
He has two grown children, four grandchildren and lives in Evanston, with his wife, Alyce Barry, an anti-racism activist. He is at currently working on his memoir. In the second part of his interview, Barker presents his artifacts and photos.