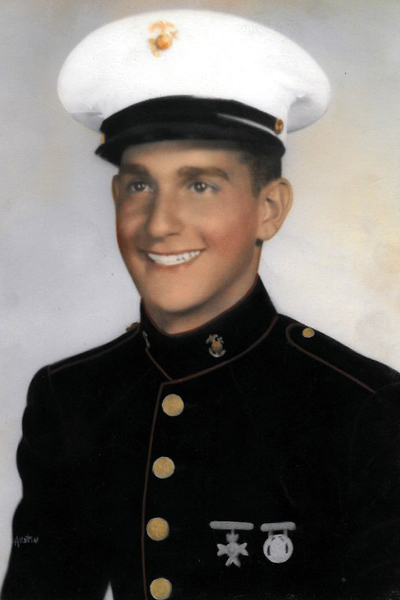 Record date:
Howell Joseph Malham, Private First Class
From a US Marine, serving in the Battle of Okinawa and a recipient of the Purple Heart award, to becoming an award-winning TV and radio salesman, Howell Malham's life is full of twists and turns. 
Malham was born in 1926 in Cuba to Persian immigrants, who left the country after the collapse of the Ottoman Empire in World War I. They made their way to Cuba, which was acting as a port of entry for visa holders. His mother had cousins in Chicago, and after two years in Cuba, Malham and his family traveled to the Windy City. While on a ship to Cuba from Marseilles, France, though, Malham's mother was pregnant with him, which he attributes to his disdain for the water. "The reason that I didn't join the Navy was because carrying me inside her womb, I was left with the scar of hating water," he recalls. "I mean, I hated water. The whole idea of being part of the Navy would make me throw up."
While attending a military high school, Malham became fascinated by the military. He wanted to serve his country and not wait till he turned eighteen to be drafted. At seventeen years old, Malham convinced his parents to grant him permission to enlist after four months of arguing.
Malham was sent to San Diego, California, for basic training. While on the train ride, he became friends with the other marines with another one of his passions, singing. After basic training, he was sent to Marine Corps Base Camp Pendleton in Oceanside, California, for advanced training. Originally, Malham wanted to be a BAR [Browning automatic rifle] rifleman, but after speaking to veterans about how they're the prime target of enemy fire, he opted for the M1 Garand rifle.
After training, Malham served in the Pacific theater with the 22nd Regiment of the 6th Marine Division and took part in the Battle of Okinawa, April 1, 1945, which he sees as horrific. "The tragedy of it all is unbelievable," he recalls. "I mean there were nineteen-thousand wounded by the time we secured the island. And about ten-thousand dead." 
 On April 17, when his platoon was assigned to a "mopping up" after the island was secured, Malham was hit by a sniper's bullet which lodged next to his heart. He was transported the USS Samaritan, a hospital ship to be followed by other medical treatment in the US. Nonetheless, run-ins with Japanese troops weren't the only close calls he had. While on guard duty one night on Guadalcanal, a Komodo dragon stumbled into the base and thankfully didn't see Malham.
When the war was over, Malham would get married, receive his GED to attend DePaul University in Chicago where he studied sociology, and raise seven children. His post-military career, though, took a different turn because he still loved to entertain and was an avid public speaker. Malham worked as a TV and radio representative for two hundred tv stations, traveled across the country, and received several awards, including the broadcast award from the Chicago Broadcast Association.
Malham's various experiences, talents, and accomplishments show that no one is limited to one career. And while he's been exceptionally successful, he still emphasizes his appreciation of history. "You can't love a country without knowing the history of it," he says "The sacrifices that were made. The people who died to give us what we've got."