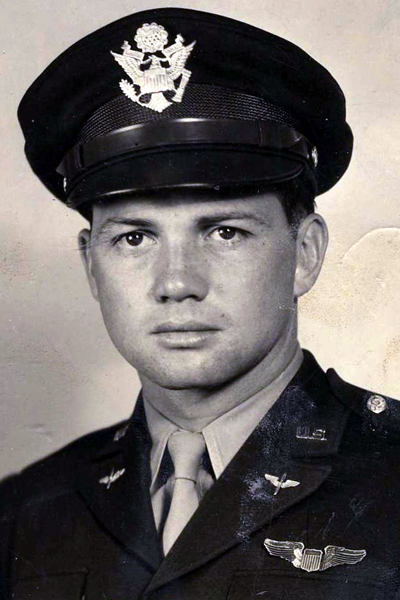 Record date:
Ben Arnold Nicks Jr., Captain
From Kansas to the skies of the Pacific, Captain Ben Nicks would fly thirty-five missions in the last chapter of World War II, commanding a B-29 Superfortress. His multiple bombing missions were vital in strangling the Japanese war efforts in the closing days of the war. His story gives an insight into the life of a pilot and the dangers that come with it; not only from the enemy, but also from the equipment.
Nicks was born March 31, 1919, in Chicago. His family moved to Kansas in 1920, where he would spend his youth and, after the war, the rest of his life. When the draft began in 1940, Nicks had already graduated from college, but decided to enlist to the US Army in 1941 to get his then one year of service required out of the way.  Soon after enlisting, he was offered to join the Army Air Force. For training, he would travel from Arkansas to Missouri, and to Texas, where he would meet his wife. In December of 1941, when he was getting ready to end his year in the service, all discharges were postponed due to America's entry into the war following the attack on Pearl Harbor. Nicks was sent to Florida to train to fly B-17's, and later became an instructor for B-24's trainees. Nicks was then assigned to the 1st Heavy Bomber Squadron of the 9th Bombardment Group out of McCook, Nebraska, where he would learn to fly B-29's. In January of 1945, Nicks was sent to Tinian, one of the Marianas Islands.  
Nicks would fly thirty-five missions as the commander of a B-29. Most missions were flown at night. He would, generally, fly incendiary missions over Tokyo and over other cities of Japan, or drop mines in the Inland Sea and near ports around Japan. Nicks would, occasionally, fly heavy bombing formation missions. Nicks flew his last mission in early August of 1945, and was sent home in October. Due to some overdue leave, Nicks wouldn't be officially discharged until January of 1946. 
Ben Nicks' experience as a pilot during World War II provides insight to future generations about the early days of the United States Air Force. Every day was a struggle with the equipment, and with the dangers that came with conducting these missions. Nicks states that he held no enmity for the Japanese. He encourages younger Americans to support those who served and to remember the importance of patriotism.