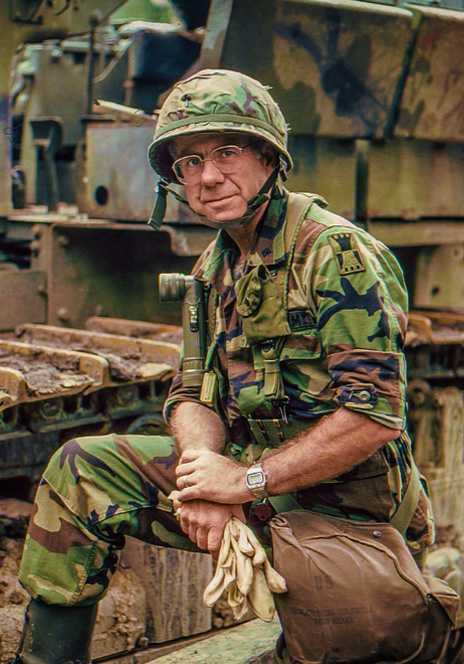 Record date:
Wallace Alcorn, Chaplain & Army Officer
Wallace Alcorn began his military service in the Naval Reserve in 1947 but would finish it forty-three years later as a United States Army chaplain. Growing up in the 1940s, Alcorn hoped to achieve the same respect as those who had served in World War II. He'd go on to enlist into the Army in 1951 intending to become an officer. Instead, he taught at the Adjutant General School, was placed illegally into the Reserves, commanded a Military Police Unit, became a chaplain, and led his own civilian ministry. His character throughout his career showcases the value of organized and level-headed service members as well as the significance of chaplains during war and post-war times.
Born in Milwaukee, Wisconsin, in 1930, Alcorn joined the Naval Reserve at seventeen years old, citing his experience as an Eagle and Sea Scout. But Alcorn felt that the Reserve was disorganized, with many of the officers neglecting their duties because they felt like they had done their time. After leaving the Reserves and before completing college, Alcorn secured a deferment and enlisted with the intent to attend the Officer Candidate School to avoid being drafted. While at infantry training at Fort Riley in Kansas, he demonstrated his personnel command skills and wound up at the Adjutant General School at Fort Benjamin Harrison, taking its Personnel Management Specialist course. Noticing that the Army didn't know what to do with him as top graduate, he created a position for himself as an instructor at the school only as a private.

After finishing his two years, when he was supposed to be discharged, he was placed into the Reserve and served with the 60th Counterintelligence Corps. While attending graduate school, he would be one of the first participants in a new "Seminarian Program," which would place him as an officer. He attended chaplain officer training, but because the program wasn't fully established, he became a platoon commander for the 70th MP Company. This didn't last long because the division switched into a training division. He moved out east and begin a civilian ministry in New Jersey while maintaining his Reserve status.

 During the Vietnam War, Alcorn assisted other officers notifying families of the deaths of their family service members. On three instances, he was nearly sent to Vietnam, but something else occurred each time. He would briefly be sent to Honduras and served as an active duty chaplain. In 1989, he was forced to retire but still acts as a chaplain for the Army and would serve in a special capacity if the United States entered into another war.

Alcorn learned how to be a chaplain and an Army officer. Thanks to the Army, he learned and grew as a person and combined his passions of military service and ministry. Alcorn speaks highly of his time in the service and thanks the Army for all that it did for him. His time in the service give us today a look at what being a chaplain entails and how that effects not only the chaplains themselves, but the troops that they serve as well.