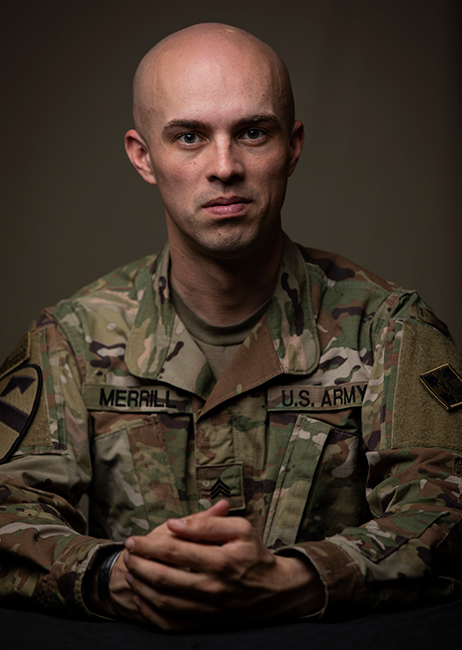 Record date:
Micah Merrill, USA Staff Sergeant
Invited as a panelist for the White Sox Pride Night 2019, in Chicago, Staff Sergeant Micah Merrill, graciously shared his ongoing journey in the military with the Holt Oral History Program at the Pritzker Military Museum & Library when he was in town.
Merrill was born in Detroit, Michigan and raised in Oregon where his father was a minister. After completing associate degree-level training as an interpreter for the hearing impaired, he procured his bachelor's degree in graphic design and photography at Bob Jones University. Merrill was always interested in contributing to the greater good. During his time at school, he worked at a variety of jobs, ranging from an interpreter for deaf students to a medic in the county EMS [Emergency Medical Services] system.
Inspired by the values of President Barack Obama and encouraged by the repeal of the Don't Ask Don't Tell policy, Merrill joined the United States Army. Merrill chose to join the infantry, wanting to be "a Soldier first" in February 2012. His initial position was that of an automatic rifleman before eventually becoming a team leader. This placed him in good stead both in understanding the tactics of infantry units serving with an intelligence support team in Afghanistan in 2013, and later communicating events of the battlefield to the audience when he started working in Army Public Affairs, 2017.
Merrill's rigorous basic training at Fort Benning, Georgia continued once assigned to the 2nd Armored Brigade Combat Team, 1st Cavalry Division, at Fort Irwin, California; he also received advanced training at the Joint Readiness Training Center, Fort Polk, Louisiana. The latter cultivated his leadership skills such as piecing together diverse pieces of information or valuing the input of individuals of lower rank.
Merrill was deployed to Afghanistan where he worked an unrelenting schedule as an intelligence support team, part of a combat unit. Tracking biometric data in relation to targets and the location of improvised explosive devices was only one of his myriad responsibilities. Merrill also served a tour in Korea in 2015 where he had the opportunity to do photography for his unit in the 2nd Brigade, 1st Cavalry Division. His next assignment was as a Public Affairs NCO with the 14th Public Affairs Detachment, Headquarters and Headquarters Battalion, 4th Infantry Division, where he was responsible for coverage and support of 4th Infantry Division assets, as well as the maintenance of the unit's equipment, content archival/release and photography/multimedia training of its personnel.
Subsequent to the interview, beginning in 2020, Merrill served as the Noncommissioned Officer in Charge of Public Affairs with the 1st Stryker Brigade Combat Team, 4th Infantry Division.
When asked about his experiences with sexual harassment by his fellow service members regarding his sexual orientation during the early phase of his military career, Sergeant Merrill said he prefers not to dwell on the negative. Rather he emphasizes the need to be one's authentic self -- a mantra which he challenges us all to aspire. Staff Sergeant Merrill comments on some of the practical challenges with harassment; at the time early in his career sexual orientation was not covered under the Army's equal opportunity policies.  Merrill also movingly describes his gradual coming out -- the last step being a tense phone call to his mother and father from a tent in Afghanistan.
Merrill points to the need for moral courage to fight prejudice and recalls the tear rolling down the face of his drill sergeant during One Station Unit Training when Merrill discovered derogatory, homophobic and racist words on the storage rack scratched above his weapon. He also applauds his leaders who focused on merit, alone.
Micah Merrill's example inspires those around him to find compassion and authenticity and challenges the attitudes of those who may not understand. As Merrill continues his service, he always implores everyone to be their authentic selves for their own betterment and for the potential effect it will have on others.