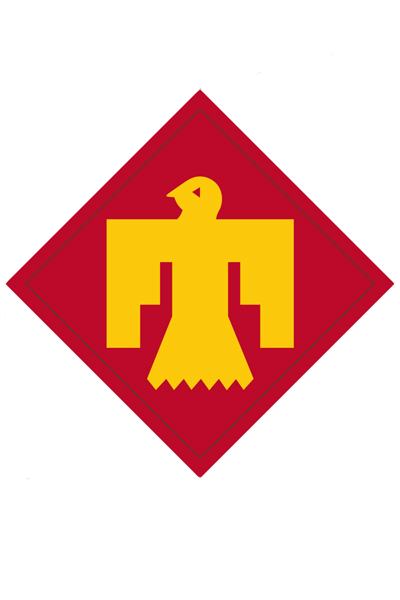 Record date:
Leroy Steinke, 1st Lieutenant
A decision to enroll Leroy Steinke in Saint Joseph Military Academy (Hays, Kansas) during high school led to a lifetime of military experiences, including leading a platoon through Italy, France, and North Africa during World War II, eight years with the Army Reserves post-World War II, and an additional twenty years in the reserves with the Air Force Medical Service Center.
Leroy Steinke was born on July 7th, 1924, on a wheat farm near Rawlins County, Kansas. When it came time to go to high school, he was sent to Saint Joseph Military Academy (JROTC) in Hayes, Kansas—about 150 miles from his childhood home. He also attended a summer ROTC Camp at Fort Leavenworth in 1941, one of nine students from the Military Academy chosen to go. During his senior year at the Academy, the Japanese attacked Pearl Harbor; because of that attack, the O1 appointment was lowered to eighteen years of age in February of 1942, shortly before Mr. Steinke graduated and had his eighteenth birthday. By August of 1942, he had taken his oath of office and was on active duty Sept. 9th, 1942—reporting to Camp Robinson in Arkansas.
After spending about four months at Camp Robinson, Mr. Steinke was assigned to the 2nd Infantry at Camp McCoy in Wisconsin. During his time at Camp McCoy, Mr. Steinke's training included exercises different than those that occurred at a typical boot camp, including learning to cross-country ski and how to recognize signs of frostbite. This training took place in the harsher environment of the Upper Peninsula of Michigan. Following his time at Camp McCoy, he was deployed to Shenango Personnel, near Scranton, Pennsylvania.
His time in Shenango was short, however, and Mr. Steinke soon had orders to move to Camp Patrick Henry in Virginia, which turned out to be an even shorter stay. Only a few days after arriving in Virginia, Mr. Steinke was loaded up on a luxury liner and shipped to Oran, Algeria. Here, he was given orders to attend a British Battle School, where he was given scouting and patrolling training. This training led to Mr. Steinke being sent to Salerno Beach, Italy, where he was assigned to the 3rd platoon of Company K of 179th infantry as platoon leader. During this time in Italy as platoon leader, Steinke suffered an injury to his leg when a piece of shrapnel landed in his thigh. Steinke bounced around Italy for the rest of the war, ending up back in Northern Africa for a short stint when he was hospitalized for malaria and jaundice. After Rome was liberated in June 1944, Steinke was awarded the Bronze Star for his service in combat. Later, in the fall of '44, he was promoted to First Lieutenant and then promoted to Commander of the K Company. That fall, he was also wounded once more and sent to a hospital in Naples.
Mr. Steinke finished his active duty as the platoon leader of the 58th Quartermaster Truck Battalion, delivering supplies around Italy.  He then went on the help set up a school in the battalion area for the troops that had served there. Mr. Steinke returned to the United States in November of '45 and attended the University of Kansas in the fall of 1946—receiving his degree in Accounting. Following his graduation, Steinke went into the active reserve in Wichita, Kansas for a year until he was fully discharged from the active reserve. Ten years later, he signed with the Air Force Reserve in Kansas City as an admin officer and worked there from 1962-68 when he transferred to Chicago and retired there as master sergeant.