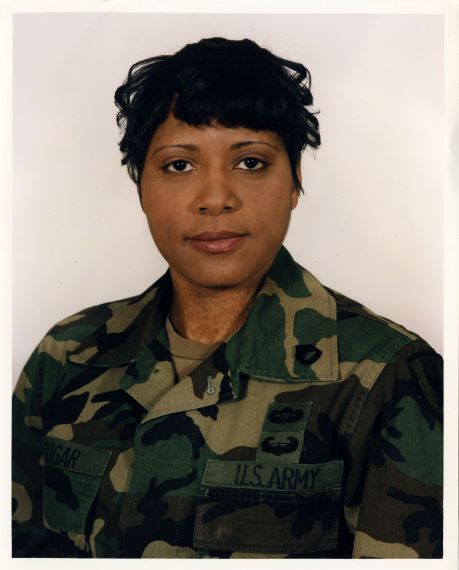 Record date:
Glenda Dugar, Sergeant First Class
An African-American woman, joining the US Army just as the WAAC [Women's Army Auxiliary Corps] was being phased out, in 1978, Glenda Dugar was always excited about life. She was bold in her choices and was prepared to jump out of planes or jump into adventurous overseas assignments during her military tenure. In spite of her impressive military career, Dugar feels grateful to, "strong and dedicated women that have set the pace for us and broke ground for women being in the service."
Sergeant Glenda Dugar was born and raised in Chicago, Illinois, and is one of eight siblings. Dugar grew up in an era of social change, and discusses in her oral history the effects of these movements in her own life and communities. Dugar was educated in Chicago's West Side  and at Jones Commercial High School located downtown Chicago where she learned machine transcription. After a few years working in the field, however, Dugar realized she wanted to pursue a different path: the Armed Forces.
Dugar was the first in her immediate family to pursue the military. Fascinated by flying and planes, Dugar pursued recruitment in the Army, becoming a member of the [RA] regular Army at the end of the Women's Army Auxiliary Corps era in 1978. After basic and military police training at Fort McClellan, Alabama, Dugar continued her training at Jump School, tapping into her joy of flying. In all of her training programs, Dugar notes that women were the minority, but in Jump School she was the only woman in her class of twenty-one who completed the training despite the terror she felt before her first jump. In fact, Dugar was commanded to be the first to jump from the plane in challenging circumstances, perhaps as an example to the men in her group. Dugar indeed earned the respect of her male colleagues.
Dugar continued to serve with the military for twenty years, serving throughout the United States as well as in Germany in various capacities, airborne, air assault, air traffic control, just to name a few. After her military career, Dugar worked as a physical therapist and as a nurse, a career for which she explains that the Army well prepared her.
Dugar is the author of three memoirs:  In My Own Words,Confessions of an Airborne Soldier, and Career Soldier. She explains that she was compelled to share her service experience in her books as well as with the Pritzker Military Museum & Library after undergoing major surgery and reflecting on her own life. In her reflection, Dugar cites her first jump in jump school as her most proud military moment, as well as her two children, who have followed in her footsteps and have also become what she refers to as "career soldiers."