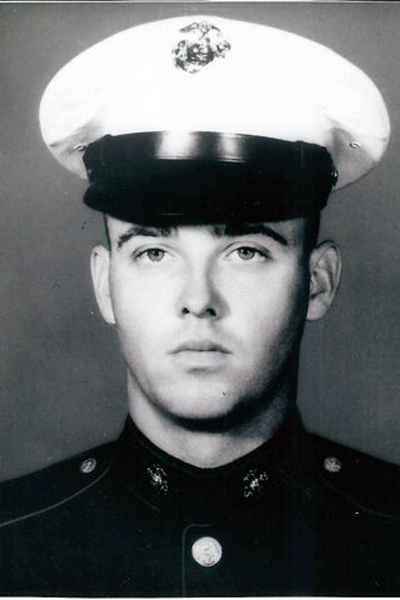 Don Thomas McCourt, Jr.
A veteran of the Vietnam War, McCourt is honored by Kat Latham.
Don Thomas McCourt, Jr. was born September 4, 1944 in Mason City, Iowa to Don, Sr. and Mary Woodhouse McCourt. He and his two sisters were raised in Plymouth, Iowa, near both sets of grandparents and many aunts and uncles. He graduated from North Central High School in 1962.
Don worked construction and operated his own gravel truck until October 29, 1965, when he entered service in the U.S. Marine Corp. He was sent to the San Diego Marine Recruit Training Depot for boot camp, then on to nearby Camp Pendleton for infantry training. In March of 1966, he returned to Plymouth for a 30-day leave.
After his leave, Don was assigned to a duty station in Okinawa, Japan, making the long journey aboard a KC-135 refueling plane that used fuel tanks for seating. In March of 1967, he deployed to Vietnam aboard a noisy, cold C-130 transport, recalling that the seats on this flight were simple canvas slings.
Upon arrival, he was assigned to the 3rd Motor Transportion Battalion 60 miles north of Da Nang and about 60 miles south of the DMZ, with the mission of transporting troops and supplies. The battalion covered an area all across Vietnam from the Pacific to Laos, always traveling in convoys with a mine truck in front to protect against IEDs. Supplies were even hauled into Khe Sanh, an area where "you went in quickly and got out quickly."
The enemy controlled all the high areas and the convoys frequently took heavy fire. The base camps were moved often in this area, and he remembers visiting one camp that was only 2 miles from a Viet Cong camp. Don just missed being involved in the devastating siege at the city of Hue in the winter of 1968, as his convoy departed the city and headed for Dong Ha just hours before the North Vietnamese arrived.
The battalion was then assigned to a reactionary force named S-Force Robby, which was a mechanized group including tanks and the 2nd Battalion, 5th Infantry Division. They were assigned to provide assistance to troops in the area and were expected to be ready to mobilize within 15 minutes at any given time. Throughout the Tet Offensive, S-Force supplied the defensive action, hauling in needed supplies and carrying troops in and out of the heavy fighting.
Don recalls how the U.S. air strikes sounded: "You could not hear the B-52's coming...all of a sudden the side of a mountain would blow up. Then you could hear the B-52's leaving."
In June 1968, Don and six or seven other Marines (along with a few Australian troops and South Vietnamese soldiers) were assigned to help and protect a rice harvest. The local farmers would bag their rice harvest and the Viet Cong would take it away from them, so the assignment was to protect the farmers and haul the rice into market. The bags were loaded into military trucks and they traveled on the rice paddy dikes to roads. A member of the family would crawl up on top of their rice bags and travel to market with it. They were very poor and dirty. During this time, Don's unit was assigned to an outpost that was a walled compound.
Sometime during late July or early August, Don fell ill with one of the tropical fevers of the area. He doesn't remember how long he was ill, but described it as "laying in your own sweat and trying to keep down enough water so as not to get dehydrated." He was treated at first in a field hospital before being transported to Okinawa in late August, where he stayed a few days. From there he returned to California, ending up at a military base in Santa Ana after finding Camp Pendleton to be full.
He was released from duty on August 30, 1968 and returned home to Iowa. He had extended his service twice; once in Okinawa and again while in Vietnam. He was very committed to his fellow Marines—and he still sees several of them on a regular basis, even though they live in other parts of the country.
Following his military service, Don apprenticed with a company that made dentures, working in that profession to this day. He married Doris Cooper on Valentine's Day in 1969. They live on a farm in Cedar Rapids, Iowa and raise Red Angus cattle. Don and Doris have two children and three grandchildren.
Book Dedicated: Matterhorn: A Novel by Karl Marlantes