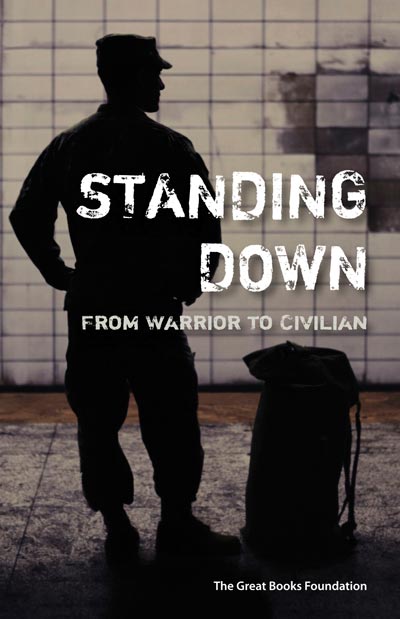 Record date:
Standing Down: From Warrior to Civilian
Standing Down: From Warrior to Civilian, an anthology of 44 selections, was created for Talking Service, the Great Books Foundation's initiative to develop reading and discussion programs for veterans, as well as their families, friends, service providers, and caregivers. 
Three authors featured in the new anthology Standing Down: From Warrior to Civilian visited the Pritzker Military Museum & Library to celebrate the book's national release. Standing Down contains readings ranging from Homer's Iliad to recent memoirs of those who have served in Iraq and Afghanistan. 
The panel, moderated by Donald Whitfield, director of the Great Books Foundation, featured:
Benjamin Busch, author of Dust to Dust: A Memoir and veteran of Operation Iraqi Freedom
Capt. Ed Hrivnak, USAF Nurse Corps (Ret.), author of Wounded: A Legacy of Operation Iraqi Freedom 
Edward W. Wood, Jr., author of On Being Wounded and veteran of World War II
Also speaking on December 4th will be Carole Watson, the Acting Chair of the National Endowment for the Humanities.
Talking Service is the Great Books Foundation's new initiative to extend its reading and discussion programs to veterans of the United States Armed Forces, and to all citizens whose lives have been touched by military service and war. The purpose of the initiative is to provide opportunities for veterans and others to get together in small discussion groups and reflect on their experiences, concerns, and aspirations by focusing the conversation on outstanding works of literature dealing with military service.