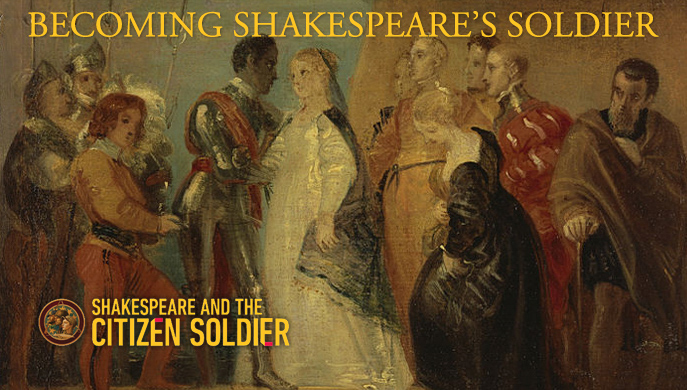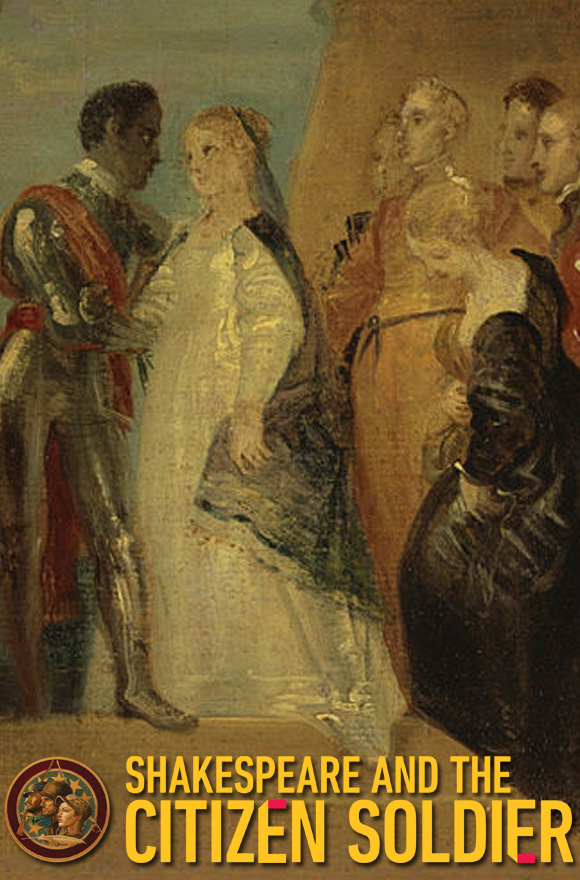 Record date:
Becoming Shakespeare's Soldier
Actors James Meredith, Jessie Fisher and U.S. Army Lieutenant Colonel Matthew Yandura discuss the process of becoming a soldier in Shakespearean plays. Sponsored by Chicago Shakespeare Theater. 
Shakespeare's Othello is one of the bard's masterworks; a brilliant general, a highborn and newly-promoted lieutenant and a jealous ensign set the tragic play in motion with envy, pride and prejudice. Based on a the story Un Capitano Moror ("A Moorish Captain") by an Italian novelist, the tale has always had deep roots in the structure and culture of military life. Chicago Shakespeare Theater's Othello actors James Meredith (Othello) and Jessie Fisher (Emilia) discuss their character research, military analysis and the training required to become part of this military culture through their performances. Lieutenant Colonel Mathhew Yandura, Chair and Professor of Military Science at Loyola University Chicago, discusses his dramaturgical consultation role to providing insight to the cast of Othello. 

JAMES VINCENT MEREDITH Chicago Shakespeare Theater credits include: Othello, Julius Caesar, King John, Much Ado About Nothing, Measure for Measure and The Merchant of Venice. Other Chicago credits include: The Pain and the Itch, The Crucible, The Tempest, The Hot L Baltimore, Superior Donuts, Carter's Way, The March (Steppenwolf Theatre Company, ensemble member); Othello, The Dutchess of Malfi (Writers Theatre); and Someone Who'll Watch Over Me (Piven Theatre Workshop). Broadway credits include: Superior Donuts. National tour credits include: The Book of Mormon. Television credits include: Prison Break, Chicago Code (FOX), ER, Law and Order SVU (NBC), Detroit 187, Betrayal (ABC) and BOSS (Starz).

JESSIE FISHER is a known stage and television actor whose previous credits include: The Heir Apparent and Short Shakespeare! The Taming of the Shrew. Other Chicago credits include: Cabaret (Jeff Award, Best Actress in a Musical), Frankenstein (The Hypocrites); 33 Variations (TimeLine Theatre Company); The Pride, Abraham Lincoln Was a F*gg*t (About Face Theatre); The Original Grease, It's a Wonderful Life (American Theatre Company); Of Mice and Men (Steppenwolf Theatre Company); These Shining Lives (Rivendell Theatre Ensemble); Cloud 9 (The Gift Theatre); The Miraculous Journey of Edward Tulane and Red Kite Roundup (Chicago Children's Theatre). Broadway credits include the lead in Once for the final year of its run. Television credits include Boss (Starz) and Chicago PD (NBC). In 2016, Fisher played Emilia in Chicago Shakespeare Theater's rendition of Othello. Ms. Fisher attended University of Colorado and is a graduate of the School at Steppenwolf.  

LIEUTENANT COLONEL MATTHEW YANDURA is a Lieutenant Colonel in the United States Army. He serves as Chair, Professor of Military Science, Loyola University Chicago. His previous assignment was Chief, Leader Development and Education, U.S. Army Cadet Command, Fort Knox, Kentucky. In this capacity, Yandura was responsible for cadet curriculum and faculty development and education. Yandura is an Information Operations Officer and decorated combat veteran in both Operation Iraqi Freedom and Operation Enduring Freedom-Afghanistan. He has two sons- Logan, age 7, and Lukas, age 19-months. He is married to Mary Elizabeth Yandura. Lieutenant Colonel Yandura has a B.A.A. in Interpersonal-Public Communication from Central Michigan University and an M.A. from The Catholic University of America in International Relations.