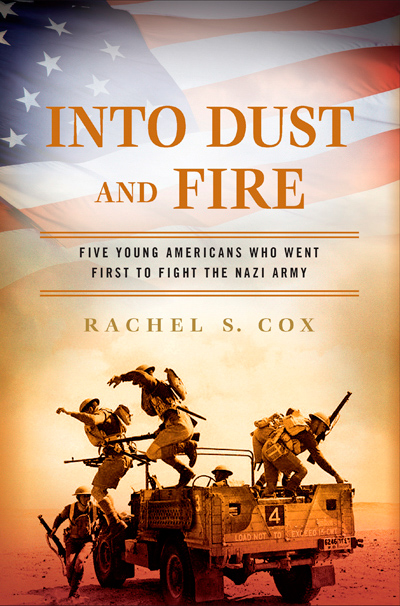 Record date:
Rachel Cox: Into Dust and Fire
Until the bombing of Pearl Harbor in December 1941, the United States was reluctant to enter the fray of World War II, donating supplies and artillery to the Allied forces instead of sending troops. 
However, for five young men with privileged backgrounds and Ivy League educations, fighting fascism was so important they decided not to wait for U.S. involvement in the growing conflict. Chuck Bolte, Jack Brister, Bill Durkee, Heyward Cutting, and Robert Cox enlisted in the British Army, and, as a result, became the first Americans to fight against the Nazis. 
The niece of Robert Cox, Rachel long had a desire to learn the story of the heroic uncle she never knew. In addition to her Uncle Robert, Cox's family has a deep and impressive American pedigree dating back to the founding fathers. However, Rachel knew next to nothing about her uncle's role in World War II. Determined to uncover the whole truth, she began research on what would become Into Dust and Fire. 
Rachel S. Cox is a contributing writer for CQ Researcher, the award-winning weekly magazine published by Congressional Quarterly. Her articles have appeared in the Washington Post, AARP Bulletin, Preservation, Landscape Architecture, and other national magazines. A resident of Washington, DC, she holds a BA cum laude in English from Harvard. Into Dust and Fire is the first book written by Rachel S. Cox.