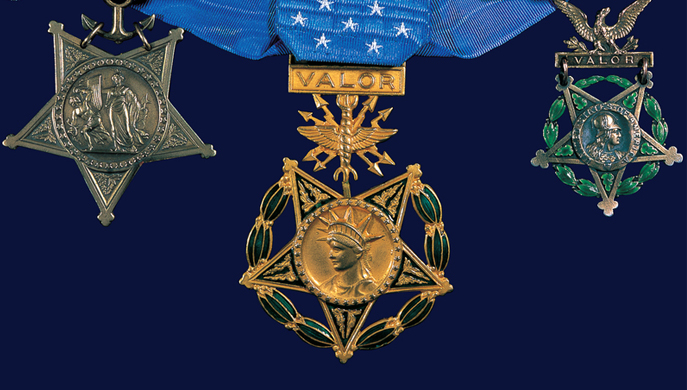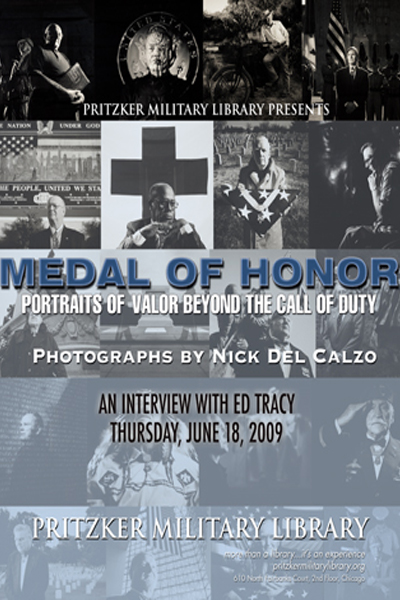 Record date:
Nick Del Calzo: Medal of Honor: Portraits of Valor Beyond the Call of Duty
It's often said that a picture is worth a thousand words. But the work of photographer Nick Del Calzo needs only one word to describe its incredible value: courage.
In 1999, inspired by the memory of his three older brothers and their service in World War II, Del Calzo embarked on what he describes as "a photographic quest to honor the millions of veterans whose lives, interrupted by war, changed history - the country's and their own."

Del Calzo's striking black-and-white photographs accompany each profile in Medal of Honor: Portraits of Valor Beyond the Call of Duty, which is published by the Congressional Medal of Honor Foundation. Each portrait aches with experience and a story of heroism far beyond the call of duty. His lens has captured memorable images of Chicago-area recipients Sammy Davis, Hal Fritz, and Allen Lynch. Iconic emblems and national monuments such as the Red Cross and the Lincoln Memorial serve as dramatic backdrops for portraits of recipients like Jack Lucas - only 17 when he earned the Medal on Iwo Jima - and in others, more personal items like 99 year-old Jack Finn's battered motorcycle speak volumes.

The Medal of Honor is America's highest award for valor in combat. Most are given posthumously; today, there are less than 100 living recipients from service in World War II, Korea, and Vietnam. "It's been a rare privilege to be in the company of living history," says Del Calzo.

Nick Del Calzo's work was also featured in award-winning book, The Triumphant Spirit: Portraits & Stories of Holocaust Survivors...Their Messages of Hope and Compassion. He is a former journalist, and lives in Colorado.