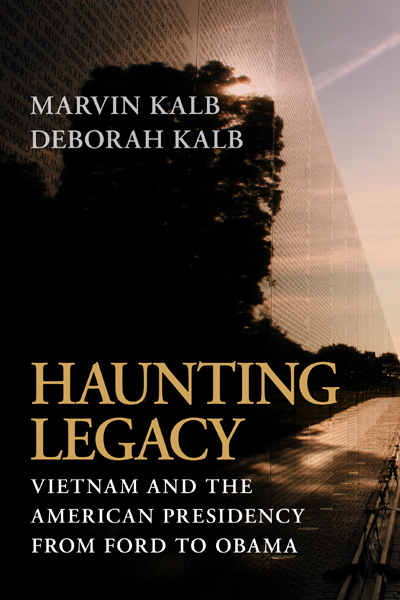 Record date:
Marvin Kalb and Deborah Kalb: Haunting Legacy: Vietnam and the American Presidency from Ford to Obama
Saigon fell, South Vietnam collapsed, and American boots left the ground in 1975. But one survivor of that war has been involved in every American conflict since then, and still roams the battlefields of Afghanistan today: the Vietnam Syndrome.
Every presidency (and presidential campaign) since Richard Nixon has been shaped by America's experience in Vietnam. In Haunting Legacy, Marvin and Deborah Kalb examine how each administration has interpreted and reacted to the lessons of that war — some through the exercise of restraint, as with Beirut and Bosnia, and others through massive force commitments, as with Iraq and Afghanistan. They also use those lessons to explain the state of the war in Afghanistan — how the after-effects of Vietnam have complicated the relationship between a president and his commanders, and why the political cost has made it difficult to bring that war to an end.

Marvin Kalb is the Edward R. Murrow Professor of Practice (Emeritus) at Harvard's Kennedy School of Government and founding director of the Shorenstein Center on the Press, Politics and Public Policy. His journalism career covers thirty years of award-winning reporting and commentary for CBS and NBC News, including stints as bureau chief in Moscow and host of Meet the Press. His eleven previous books include The Nixon Memo and Kissinger. He hosts the Kalb Report at the National Press Club.

Deborah Kalb, a freelance writer and editor, worked as a journalist in Washington for two decades, including writing for Gannett News Service, Congressional Quarterly, U.S. News & World Report, and The Hill.