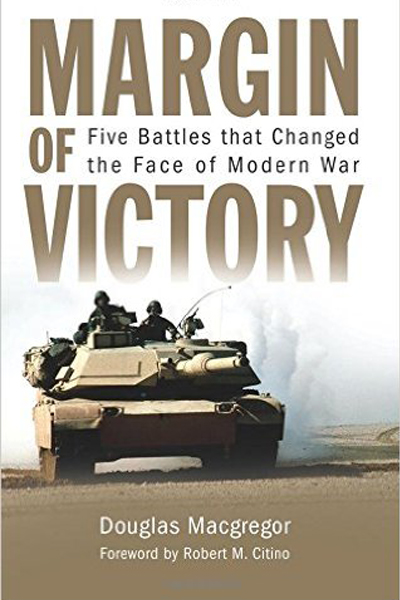 Record date:
Douglas Macgregor, Margin of Victory: Five Battles that Changed the Face of Modern War
Decorated combat veteran and author Douglas Macgregor, PhD visits the Museum & Library to discuss his newest book, detailing five military battles in the 20th century. Sponsored by U.S. Naval Institute.
A reception with light refreshments and cash bar will precede the program. Members get a free drink ticket!

In Margin of Victory Douglas Macgregor tells the riveting stories of five military battles of the twentieth century, each one a turning point in history. Beginning with the British Expeditionary force holding the line at the Battle of Mons in 1914 and concluding with the Battle of 73 Easting in 1991 during Desert Storm, Margin of Victory teases out a connection between these battles and teaches its readers an important lesson about how future battles can be won.
Emphasizing military strategy, force design, and modernization, Macgregor links each of these seemingly isolated battles thematically. At the core of his analysis, the author reminds the reader that to be successful, military action must always be congruent with national culture, geography, and scientific-industrial capacity. He theorizes that strategy and geopolitics are ultimately more influential than ideology. Macgregor stresses that if nation-states want to be successful, they must accept the need for and the inevitability of change. The five warfighting dramas in this book, rendered in vivid detail by lively prose, offer many lessons on the tactical, operational, and strategic levels of war.

DOUGLAS MACGREGOR is a decorated combat veteran, the author of five books, a PhD and the executive VP of Burke-Macgregor Group LLC, a defense and foreign policy consulting firm in Reston, VA.  He was commissioned in the Regular Army in 1976 after 1 year at VMI and 4 years at West Point.  Macgregor retired with the rank of Colonel in 2004.  He holds an MA in comparative politics and a PhD in international relations from the University of Virginia.  
Macgregor is widely known in military circles inside the U.S., Europe, Israel, China and Korea for both his leadership in the Battle of 73 Easting, the U.S. Army's largest tank battle since World War II, and for his ground-breaking books on military transformation: Breaking the Phalanx (Praeger, 1997) and Transformation under Fire (Praeger, 2003).  His fourth book, Warrior's Rage: The Great Tank Battle of 73 Easting (Naval Institute Press, 2009) describes the 1991 action for which he was awarded a Bronze Star with "V" device for valor.  His books have been translated into Hebrew, Chinese, Russian and Korean. 
In 28 years of service, Macgregor taught in the Department of Social Sciences at West Point, commanded the 1st Squadron, 4th Cavalry, and served as the Director of the Joint Operations Center at SHAPE in 1999 during the Kosovo Air Campaign.  He was awarded the Defense Superior Service medal for his role in the Kosovo Air Campaign.  In January 2002, Secretary of Defense Donald Rumsfeld insisted that General "Tommy" Franks meet with, Colonel Macgregor on 16-17 January 2002 to hear Macgregor's concept for the attack to Baghdad.  Though Macgregor's offensive concept assumed the rapid restoration of control to the Iraqi Army and no occupation his offensive scheme of maneuver was largely adopted. 
Since leaving the Army, Macgregor has worked as a consultant to advise a host of individuals and organizations including the Office of the Secretary of the Navy, the Joint Staff, Bell Laboratories, and Raytheon Corporation on issues ranging from strategic roadmaps to the integration of disruptive technologies.  He has testified as an expert witness before the House Armed Services Committee, Senate Armed Services' Air-Land Subcommittee and appeared on Fox Business, PBS News Hour, the BBC, CBC, RT, and CNN.  Cameron, his oldest son, is a 2007 graduate of the U.S. Naval Academy and now works as a consultant in the IT industry.