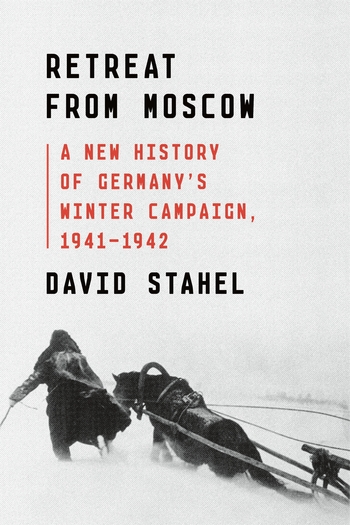 Record date:
David Stahel: Retreat from Moscow
Author David Stahel visits the Museum & Library to discuss his book about the German Winter Campaign between 1941 and 1942.
LIMITED TICKETS - Call 312.374.9333 for availability.
Germany's winter campaign of 1941–1942 has commonly been seen as its "first defeat." In Retreat from Moscow, a bold and gripping account of one of the most seminal moments of the Second World War, David Stahel argues that, in fact, it was its first strategic success in the east. Far from a self-evident triumph, the Soviet counteroffensive was a Pyrrhic victory. Though the Red Army managed to push the Wehrmacht back from Moscow, the Germans lost far fewer men, frustrated their enemy's strategic plan, and emerged in the spring unbroken and poised to recapture the initiative.
Hitler's new strategic plan called for holding important Russian industrial cities, which the German army would do. And the Soviet plan as of January 1942 aimed for nothing less than the destruction of Army Group Centre, but in fact, not a single German army, corps, or division was ever successfully destroyed. Lacking the professionalism, training, and experience of the Wehrmacht, the Red Army mounted an offensive that attempted to break German lines in countless head-on assaults, which led to far more tactical defeats than victories.
Through journals, memoirs, and wartime correspondence, Stahel takes us into the Wolf's Lair and reveals a German command at war with itself, as generals on the ground battle to maintain order and save their troops while Hitler's capricious directives become all the more irrational. And through soldiers' diaries and letters home, he paints a rich portrait of life and death on the front, where the men of the Ostheer fight against frostbite as much as they do Soviet artillery. Continuing his path breaking series on the Eastern Front, David Stahel's Retreat from Moscow is military history of the highest order.
DAVID STAHEL was born in Wellington, New Zealand, in 1975. He completed an honors degree in history at Monash University in Melbourne, an MA in war studies at King's College London, and a PhD at the Humboldt University in Berlin. His research has centered primarily on German military history and particularly the Wehrmacht's war against the Soviet Union. Stahel is Senior Lecturer in European history at the University of New South Wales in Canberra. His previous titles include The Battle for Moscow and Operation Typhoon.