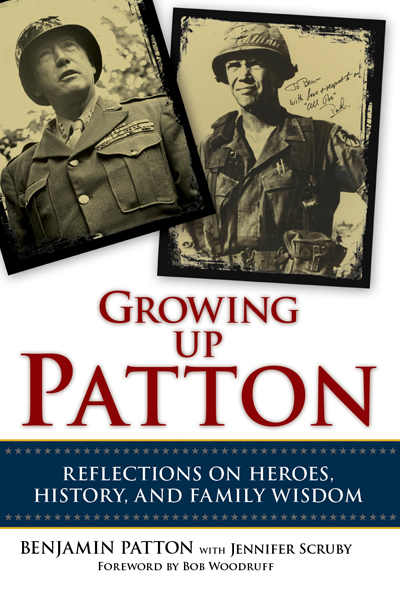 Record date:
Benjamin Patton: Growing Up Patton
The grandson of WWII general George S. Patton Jr., documentary filmmaker Benjamin Patton specializes in biographies of individuals and families. Now, with former Vogue and Elle editor Jennifer Scruby, he offers a rare and intimate look into the life of a legendary man, and the legacy he passed down from one generation to the next in Growing Up Patton: Reflections on Heroes, History and Family Wisdom.
Growing Up Patton includes never-before-published letters between General George S. Patton and his son during WWII, as well as never before published family photographs. Following in those famous footsteps, Benjamin's father became a decorated and respected hero of the Korean and Vietnam wars, proving himself just as brave, flamboyant, flawed and inspiring as his father had been.
In revealing personal correspondence written between 1939 and 1945, General Patton Jr. espoused his ideals to Benjamin's father, then a cadet at West Point. Dispensing advice on duty, heroism and honor with the same candor he used ordering the Third Army across Europe, the letters show Patton to be as dynamic a parent as a military commander.
A study of a great American original, Growing Up Patton features some of the pivotal figures in Benjamin's father and grandfather's life, including Creighton Abrams, the WWII hero who became his greatest mentor; Charley Watkins, a daredevil helicopter pilot in Vietnam; Manfred Rommel, the son of German Field Marshal Erwin Rommel; Joanne Patton, the author's mother and a resourceful fighter in her own right; and Benjamin's mentally challenged brother, George. Growing Up Patton explores how the Patton cultural legacy lives on, and in the end, reveals how knowing the history of our heritage-famous or not-can lead to a deeper understanding of ourselves.
Benjamin Patton recently established the Patton Veterans Project which organizes the I WAS THERE filmmaking workshops for soldiers being treated for Post Traumatic Stress. Over several days, soldiers collaborate on short films designed to help them reclaim their narrative, by articulating aspects of their struggles on film in a therapeutically beneficial and healing way.
Berkley Caliber Hardcover