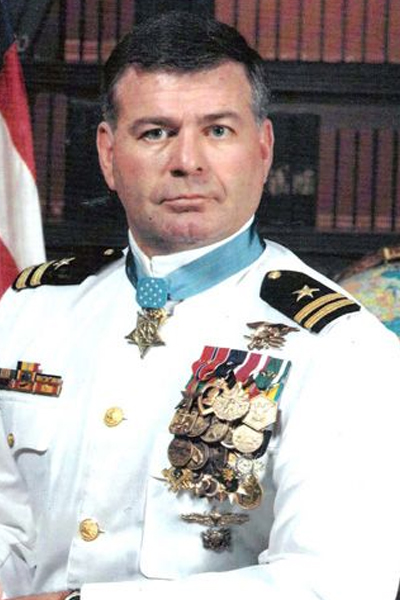 Record date:
Medal of Honor Recipient Michael Thornton
Lt. Thomas Norris had a dangerous mission to complete, and he had his pick of men to join him. He chose a 23 year old Navy SEAL named Michael Thornton. Norris would later say that was the smartest decision he ever made.
Thornton grew up on his family's farm near Spartanburg, South Carolina. After graduating from high school, the hulking teenager enlisted in the Navy and completed the rigorous training program required to become a SEAL. In 1972, he accompanied Norris and three South Vietnamese SEALs on a mission to gather intelligence about an enemy base on the Cua Viet River. Under cover of night, the five men swam to shore and made a thorough patrol of the area. However, daybreak revealed that they had gone too far north – and, soon, more than fifty enemy soldiers knew it, too.
Over the next several hours, the five men fought their way back to the water line, determined to prevent the enemy from encircling them. Thornton, wounded in the back, was sent ahead to the beach while Norris stayed behind to provide covering fire. However, upon learning that Norris had been hit and was believed to be dead, Thornton charged back to the lieutenant's position and killed two enemy soldiers standing over his body; Norris was alive, in fact, though just barely. With the unconscious lieutenant on his back, Thornton plunged into the water. When another SEAL was hit and could not swim, Thornton took hold of him as well, carrying both men out to sea. Despite his own wounds, Thornton swam for more than two hours until they were rescued.
Thornton received the Medal of Honor on October 15, 1973, but not before completing one more rescue mission with Norris, whose doctors had forbidden him from attending the ceremony – requiring a stealth extraction from Bethesda Naval Hospital. Thornton went on to serve as a SEAL instructor, directed diving and salvage operations, and coordinated rapid response deployments in Iraq during Operations Desert Shield and Desert Storm. Now retired, he lives near Houston.
His Citation Reads:
For conspicuous gallantry and intrepidity at the risk of his life above and beyond the call of duty while participating in a daring operation against enemy forces. PO Thornton, as Assistant U.S. Navy Advisor, along with a U.S. Navy lieutenant serving as Senior Advisor, accompanied a three-man Vietnamese Navy SEAL patrol on an intelligence gathering and prisoner capture operation against an enemy-occupied naval river base. Launched from a Vietnamese Navy junk in a rubber boat, the patrol reached land and was continuing on foot toward its objective when it suddenly came under heavy fire from a numerically superior force. The patrol called in naval gunfire support and then engaged the enemy in a fierce firefight, accounting for many enemy casualties before moving back to the waterline to prevent encirclement. Upon learning that the Senior Advisor had been hit by enemy fire and was believed to be dead, PO Thornton returned through a hail of fire to the lieutenant's last position; quickly disposed of two enemy soldiers about to overrun the position, and succeeded in removing the seriously wounded and unconscious Senior Naval Advisor to the water's edge. He then inflated the lieutenant's lifejacket and towed him seaward for approximately two hours until picked up by support craft. By his extraordinary courage and perseverance, PO Thornton was directly responsible for saving the life of his superior officer and enabling the safe extraction of all patrol members, thereby upholding the highest traditions of the U.S. Naval Service.