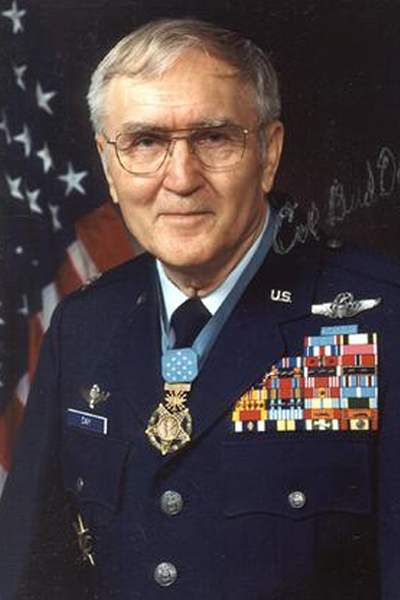 Record date:
Medal of Honor Recipient George E. Day Interview
George E. "Bud" Day is the nation's most highly decorated soldier since General Douglas MacArthur. In a military career spanning 34 years and three wars, Day received nearly 70 decorations and awards of which more than 50 are for combat.
Most notable of his decorations is our nation's highest military honor, the Congressional Medal of Honor, presented to him by President Gerald Ford. Day was born 24 February 1925 in Sioux City, Iowa, enlisted in the Marine Corps in 1942, and served 30 months in the South Pacific during World War II. Returning home, he entered law school and passed the Bar exam in 1949. The following year he was commissioned in the Iowa National Guard. In 1951 he was called to active duty to enter pilot training from which he served two tours as a fighter-bomber pilot during the Korean War flying the Republic F-84 Thunderjet.

Day entered the Vietnam War when he was assigned to the 31st Tactical Fighter Wing at Tuy Hoa Air Base, Republic of Vietnam, in April 1967. Shortly thereafter, he moved to Phu Cat Air Base where he organized and became the commander of the 416th Tactical Fighter Squadron, the first "Misty Super FAC" unit flying the North American F-100 Super Sabre. On 26 August 1967, Day's accumulation of over 5000 flying hours came to an abrupt halt when he was shot down over North Vietnam and immediately captured by the North Vietnamese following his ejection. Despite serious injury, he managed to escape and evade across the Demilitarized Zone back into South Vietnam, earning the distinction of being the only prisoner to escape from North Vietnam. Within two miles of freedom and after two weeks of evading, he was re-captured by the Viet Cong. Thus began his 67-month imprisonment that would end only upon his release on 14 March 1973. Three days later Day was reunited with his wife and four children at March AFB, California.

After a short recuperative period, Day was returned to active flying status. Colonel Day retired from active duty in 1977. Following his retirement, Day wrote an autobiography, Return with Honor, detailing his suffering as a captive in Vietnam. Day graduated the University of South Dakota Law School in 1949 and currently has a thriving law firm in Fort Walton Beach. On 14 March 1997, the new Survival School Building at Fairchild AFB was named in his honor. Day's most recent accomplishment came in February 2001 when he won a major victory for World War II and Korean retirees in the Federal Circuit Court of Appeals. The court acknowledged the government had breached its contract to provide retirees and their spouses free lifetime medical care. Day lives with his wife Doris in Shalimar, Florida.
His Citation Reads:
On 26 August 1967, Col. Day was forced to eject from his aircraft over North Vietnam when it was hit by ground fire. His right arm was broken in three places, and his left knee was badly sprained. He was immediately captured by hostile forces and taken to a prison camp where he was interrogated and severely tortured. After causing the guards to relax their vigilance, Col. Day escaped into the jungle and began the trek toward South Vietnam. Despite injuries inflicted by fragments of a bomb or rocket, he continued southward surviving only on a few berries and uncooked frogs. He successfully evaded enemy patrols and reached the Ben Hai River, where he encountered U.S. artillery barrages. With the aid of a bamboo log float, Col. Day swam across the river and entered the demilitarized zone. Due to delirium, he lost his sense of direction and wandered aimlessly for several days. After several unsuccessful attempts to signal U.S. aircraft, he was ambushed and recaptured by the Viet Cong, sustaining gunshot wounds to his left hand and thigh. He was returned to the prison from which he had escaped and later was moved to Hanoi after giving his captors false information to questions put before him. Physically, Col. Day was totally debilitated and unable to perform even the simplest task for himself. Despite his many injuries, he continued to offer maximum resistance. His personal bravery in the face of deadly enemy pressure was significant in saving the lives of fellow aviators who were still flying against the enemy. Col. Day's conspicuous gallantry and intrepidity at the risk of his life above and beyond the call of duty are in keeping with the highest traditions of the U.S. Air Force and reflect great credit upon himself and the U.S. Armed Forces.