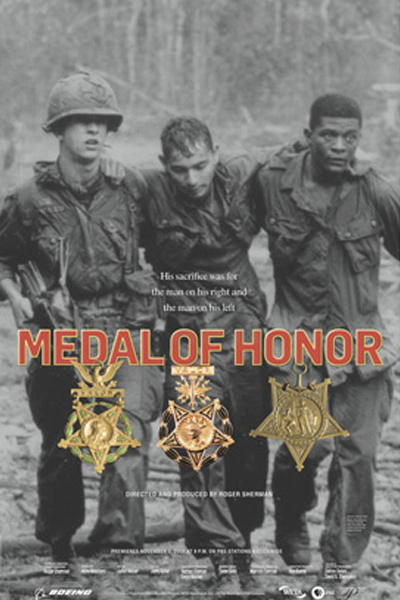 Record date:
Medal of Honor Documentary Film Preview
The story of the Medal of Honor - the highest U.S. award for valor in combat - is told through personal accounts of bravery and daring.
The medal, dating from Civil War through the war in Iraq today, is presented to individuals for service "above and beyond the call of duty." Most have been awarded posthumously, yet in this film 13 living recipients tell their inconceivable stories. This documentary about finding courage and succeeding against overwhelming odds transports audiences to the battlegrounds of Little Round Top, World War I, World War II, Korea, Vietnam and Iraq.

Roger Sherman - Producer and Director of MEDAL OF HONOR
Roger Sherman's documentaries have been honored with of a Peabody Award, an Emmy Award, two Academy Award nominations, and many other accolades. Among his many films, Richard Rodgers: The Sweetest Sounds, was named to a Top 10 list and was called "An extraordinary film biography, perhaps the best ever produced in the American Masters series" by The Wall Street Journal. Alexander Calder, a co-production with American Masters, was pronounced "an American masterpiece" by Charlie Rose. Other films include The American Brew, the rich and surprising history of beer in America; The Rhythm of My Soul, a profile of country, gospel, bluegrass and mountain musicians; Don't Divorce the Children, chronicling the effects of divorce on children, which became mandatory viewing in courts in a dozen states; and, The O.J. Simpson Trial: Beyond Black & White, a look at the African-American perspective of the criminal justice system.