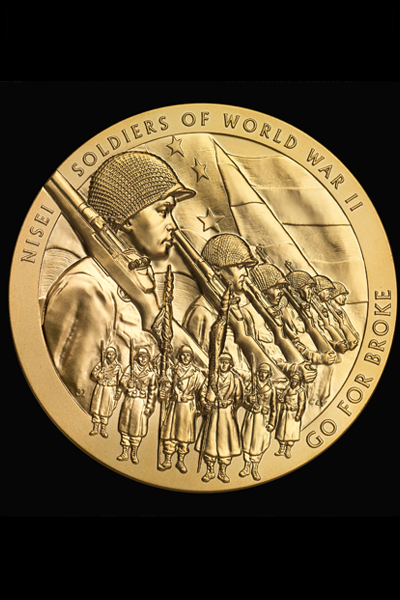 Record date:
Enoch Kanaya, Sergeant
From being placed into an internment camp, to receiving the Congressional Gold Medal, Enoch Kanaya's Oral History Interview discusses a wide-range of topics centered around his experience in the mountains breaking the Gothic Line with the 442nd—an all Japanese-American regiment in WWII that dutifully served their country during a dark period of its history.
Born in the farming community of Clackamas, Oregon, Enoch Kanaya moved to the city of Portland as a young boy, where he lived until 1941. Prior to the attack on Pearl Harbor, he lived the life of an average school boy, playing softball, attending high school, and looking up to his older brother who had enlisted in the U.S. Army. When the Japanese attacked Pearl Harbor on December of 1941, however, Mr. Kanaya's life would be changed forever. The Kanaya family was forced to sell all of their property, get rid of most of their personal possessions, and move to an internment camp due to their Japanese heritage as authorized by Executive Order 9066, signed by President Roosevelt. Before arriving at Minidoka Camp in Hunt, Idaho, his family spent nearly three months in an Assembly Hall waiting to hear where they would have to go next.
While at the camp, Mr. Kanaya attended school part-time, and worked in a motor-pool, changing oil and greasing trucks for eight dollars a month. He had thoughts of enlisting, but was persuaded to finish school by his mother, who worried about him being too young. The first draft notice he received after turning 18, however, listed him as being classified as a 4C—an enemy alien—which confused him for no other reason than that his brother was already serving. Finally, Mr. Kanaya received a second draft notice from the Army and knew he would be sent to serve in the 442nd, an all-Japanese regiment.
Mr. Kanaya reported for duty at Fort Douglas, Utah. After his induction, he was sent on a train and shipped to basic training at Camp Blanding, Florida. Here, Kanaya went through Infantry Replacement Training—a 16-week combat course where he learned how to fire every weapon the army had, including bazookas. After the 16 weeks of training concluded, he was sent to Fort Meade, Maryland, and then shipped off to Europe on the Aquitania, the sister sip to the Lusitania, which was sunk in World War I. The ship landed in Glasgow, Scotland, and traveled to France, where Kanaya would be a part of a replacement group of soldiers for the 442nd Infantry. The replacements were given the job of protecting the Maritimes Alps from the Germans that separated Italy and France—also known as the Gothic Line. A few months later, in Italy, the 442nd was able to penetrate the Gothic Line and push the Germans back in April of 1944. After leaving the front lines, Mr. Kanaya assigned guard duty, keeping watch over German prisoners of war,  before being sent back to America in July, 1946. When the 442nd arrived back in the States, they were awarded the 7th Presidential Citation for their service.
Although Congress did formally acknowledge the full extent of their mistreatment, it wasn't until 2011 that the 442nd was recognized with a ceremony awarding the surviving members, their widows, or other representatives, with Congressional Gold Medals. After the war, Kanaya took classes at Northwestern and the American Institute for television, got a job at the Admiral Corporation, where he spent 28 years as a technician. Throughout his Oral History Interview, Mr. Kanaya makes it clear that he wants it known that he is not a hero, but rather the men who gave their lives during the war and did not return home are the true heroes of the war.