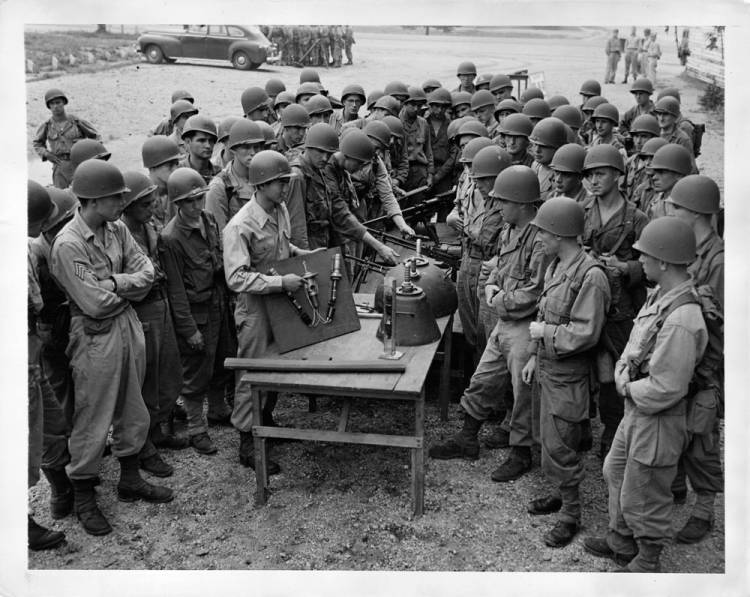 The 100th Infantry Regiment and 442nd Regimental Combat Team
May commemorates Asian American and Pacific Islander Heritage Month in the United States.  Many Asian Americans and Pacific Islanders have served in the United States' military throughout the years. The 100th Infantry Regiment and the 442nd Regimental Combat Team, which consisted of second-generation Japanese Americans (commonly referred to as Nisei) during World War II, is a shining example of the extremely honorable and self-less service many Asian Americans have made to their country.
The units served in the European theatre of operations from 1944 through 1946, seeing combat in Italy, southern France, and Germany. While these young men were fighting for their country in Europe, some of their relatives were held in internment camps in the continental United States due to their heritage. The highly decorated unit earned eight Distinguished Unit Citations during the war with five of those citations being earned for actions that occurred in Vosges, France in a single month.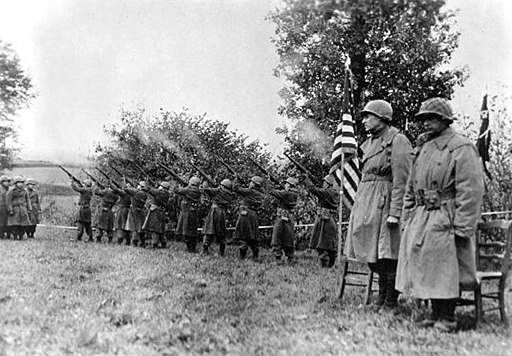 In March 1945, the 100th/442nd was attached to the 92nd Division on the Italian Front.  They encountered extremely difficult terrain as they traversed the Apennine Mountains. The units broke the Gothic Line that the German Army had constructed and reinforced under the direction of German Field Marshal Albert Kesselring. The 100th and 442nd pushed hard against the German line. They assaulted the German Army in Aulla, Italy in April 1945. When Aulla fell, the German retreat was cut off and German soldiers surrendered to the American 5th and 8thArmies. 
Many Asian Americans were targets of discrimination after the war. These veterans however persevered. Many of them used the G.I. bill to attend college and, later, gave back to their local communities through public service as doctors, educators, and politicians.
In October 2010, Congress granted the Congressional Gold Medal to the 442nd Regimental Combat Team, the 100th Infantry Battalion, and Nisei soldiers serving in the Military Intelligence Service. The presentation ceremony occurred on November 2, 2011. 
Listen to one of their stories:
Satsuki "Fred" Tanakatsubo, Private
To learn more about the 442nd Regimental Combat Team, read:
Ankrum, Homer R. Dogfaces Who Smiled through Tears: The 34th Red Bull Infantry Division, and Attached 100th (Hawaiian) Battalion, and 442nd "Go for Broke" Regimental Combat Team in World War II: A Chronicle of Heartbreaks, Hardships, Heroics, and Humor of the North African and Italian Campaigns. Lake Mills, Iowa: Graphic Pub, 1987.
Brown, Daniel James. Facing the Mountain: A True Story of Japanese American Heroes in World War II. New York, New York: Viking, an imprint of Penguin Random House LLC, 2021.
Chang, Thelma. I Can Never Forget: Men of the 100th/442nd. Honolulu, HI: Sigi Productions, 1991.
Crost, Lyn. Honor by Fire: Japanese Americans at War in Europe and the Pacific. Novato, CA: Presidio, 1994.
Duus, Masayo. Unlikely Liberators: The Men of the 100th and 442nd. Paperback ed. Honolulu: University of Hawaii Press, 2006.
Hanamura, Wendy, Joan Saffa, and National Japanese American Historical Society (U.S.). Honor Bound: A Personal Journey: The Story of the 100th/442nd Regimental Combat Team - 50 Years Later: Teacher's Classroom Guide. Edited by Chizu Iiyama and Rosalyn Tonai. San Francisco, CA: National Japanese American Historical Society, 1995.
Hayashi, Stacey T, and Damon Wong. Journey of Heroes: The Story of the 100th Infantry Battalion and 442nd Regimental Combat Team. Hawaii: 442nd Manga Comic Project, 2012.
Hosokawa, Bill. Nisei: The Quiet Americans. New York: William Morrow, 1969.
Matsuo, Dorothy. Boyhood to War: History and Anecdotes of the 442nd Regimental Combat Team. Honolulu: Mutual Pub, 1992. 
McGaugh, Scott. Honor Before Glory: The Epic World War II Story of the Japanese American Gis Who Rescued the Lost Battalion. Boston, MA: Da Capo Press, 2016.
Moulin, Pierre. U.S Samuraïs in Bruyeres: People of France and Japanese Americans: Incredible Story. France: Peace & Freedom Trail, 1993.
Tateishi, John, John Tateishi, and Mazal Holocaust Collection. And Justice for All: An Oral History of the Japanese American Detention Camps. 1st ed. New York: Random House, 1984.
Tendai Education Foundation, and Hawaii Nikkei History Editorial Board. Japanese Eyes, American Heart: Personal Reflections of Hawaii's World War II Nisei Soldiers. Honolulu: Tendai Educational Foundation, 1998.
Westdale, Virgil W, and Stephanie A Gerdes. Blue Skies and Thunder: Farm Boy, Pilot, Inventor, TSA Officer, and World War II Soldier of the 442nd Regimental Combat Team: Memoir of a Japanese American. New York: iUniverse, 2009.
Yenne, Bill. Rising Sons: The Japanese American GIs Who Fought for the United States in World War II. 1st ed. New York: Thomas Dunne Books, 2007.