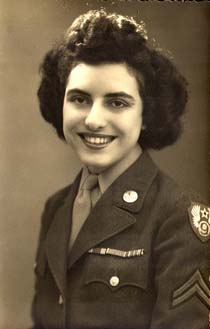 Record date:
Yolanda Imhoff, Radio Operator, WAAC
Serving in the Women's Army Auxiliary Core at the end of WWII, Yolanda Imhoff used her discerning sense of hearing to transcribe coded messages.
Yolanda Borelli Imhoff was born in 1918, in Long Island, New York. In her interview, she talks about how she was on the path to become an opera singer before her parents died, after which she got a job as a secretary. When she decided that she wasn't making enough money to afford living in New York City, she signed up with the US Army.
From New York, Imhoff went to Des Moines, Iowa for basic training. There, she took a military aptitude test, and was assigned to go to radio school, due to her keen ability to hear the various audio signals. Imhoff attended Midland Radio School in Kansas City, where she made friends with other women in the same program, and occasionally volunteered at a church, teaching children how to march in formation. Before she was shipped abroad, Imhoff was sent from place to place within the U.S. to practice working with radio. This included being stationed at a fort that had no radios and a base where she was regularly cat-called by the prisoners of war held there.
Imhoff was then sent abroad to France, where she distinguished herself as a talented and reliable radio worker. She recalls that as a woman in the US Army, she was treated differently than men. Yet she remembers how the men and the women with whom she worked always took care of each other, regardless of gender. After France, Imhoff was stationed in Scotland, including during D-day, itself. Finally, she was sent back to France.
Imhoff also met her husband while both were in France. He was part of the Quartermaster Corps that was based at the same location as Imhoff. She discussed how their courtship had its ups and downs, including when her future husband temporarily left her to pursue his sweetheart from back home. However, they ended up happily married with children, despite the difficulties.
After the war ended, Imhoff was briefly assigned to Germany, but was soon sent home due to lack of work. Following her turbulent flight home, in which she made friends with the pilot, she resumed her work as a secretary in New York. When her husband returned a few weeks later, she moved to Illinois, where she worked for Pabst Beer until she left to have children and raise a family.
Overall, Imhoff says that being part of WAAC [Women's Army Auxiliary Corps] was a positive experience. It was where she met her husband as well as her her best friends. It allowed her, a sheltered girl from New York, to experience more of the world. Imhoff's only complaint was that her service cost her some of her hearing, though, thankfully, she can still enjoy music.
For more information on Imhoff, please see Pritzker Military Museum & Library exhibit, "She's a Wow!"