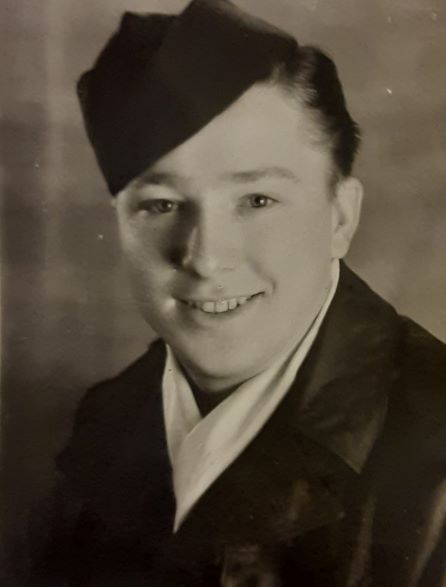 Record date:
Walter Sabo, Staff Sargeant
Walter Sabo enlisted in the U.S. Army Air Force after high school in March of 1943, flying twenty-nine combat missions as a B-17 ball-turret gunner in the European theater in the 353th Squadron of the 301st Bombardment Group. 
Growing up during the Great Depression, Mr. Sabo spent time in both Chicago and a Michigan farm as his family grappled with unemployment.  Both of his parents were Central-European immigrants, and his mother, in particular, kept him informed on the state of Europe as a young child, who astutely realized that this would bring about the end of Germany.   Shortly after high school he enlisted so that he could pick which service he went into, selecting the Air Force.
He traveled to Fort Sheridan, Illinois and then Miami Beach, Florida for military training, before heading to Kingman, Arizona, for aerial gunnery school.  After traveling to meet his crew in Dyersburg, Tennessee he volunteered to be the ball turret gunner because he was the shortest in the crew.  Ultimately Mr. Sabo flew twenty-nine flights over Europe in his B17, the Virginia Gentleman.
Mr. Sabo describes what these flights were like, flying into a black cloud of smoke with the plane shaking from shells exploding all around.  He participated in raids over Berlin, even bombing the Olympic Stadium where tanks were being assembled.  From his base in Italy, he listened to Axis propaganda, Churchill's speeches, and remained there until the end of the war.  The experience, including the loss of two close friends due to the war, profoundly affected him and other servicemen during and after the war.  After he left the service on November 7th, 1945, he stayed involved with the VFW and kept in contact with the tail gunner from the Virginia Gentleman.