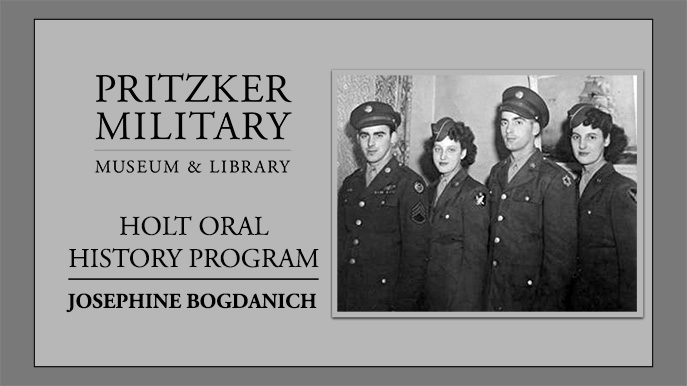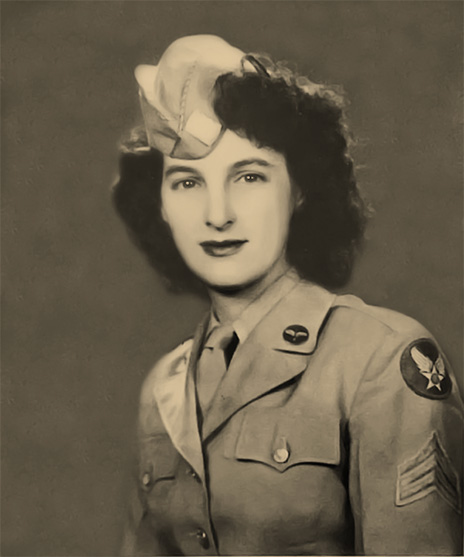 Record date:
Josephine Bogdanich Transcript.pdf
Josephine Bogdanich, Women Army Corps, US Army Air Corps
What was it like for women to be "pioneers" in the US Army? The patriotic, Josephine Bogdanich, at 104 years of age recounts her story of service in the Women's Army Corps – WACs during WWII.
Josephine Bogdanich was born in Chicago on October 15, 1916 in her grandmother's home on 1955 West 69th St, near the streetcar barns.  Her father, Frank, a motorman, drove a streetcar, and her mother, Johanna was a housewife who took care of their large family. Bogdanich lived on Chicago's South Side with her parents, and her four siblings Frank, Joseph, Mary and Joan. The Depression was rough on their family, but they survived. Bogdanich attended Visitation High School, a Catholic school, and upon graduation went to work as a switchboard operator for the Illinois Bell Telephone Company.
Bogdanich recounted how when the attack on Pearl Harbor occurred, she was working the switchboard:  
I was working that Sunday at 6:30 for the office at the switchboard. I'm at one end, a friend of mine's on the other end-and all of a sudden, it was just like Christmas trees. All the lights lit up. Instead of when you'd plug in and you would say, "Number please," they said, "Where's Pearl Harbor?"
Bogdanich's brothers enlisted to fight in World War II, and in 1944, she and her sister made the decision to go join, too. She planned to join the Army, like her brothers, but her sister Mary had decided to go into the Navy-until Mary understood Josephine's plans for the Army and instead said to her, "I'll go with you." The sisters went to Fort Des Moines in Iowa for thirteen weeks of basic training. From there, her sister was sent to Fort Sumter, New Mexico while Bogdanich was assigned to Selfridge Air National Base in Mt. Clemens, Michigan. After a short time, she was sent to Sheppard Air Force Base, Texas, and later to Langley Air Force Base, Virginia.
At Langley, she was received teletype training and served in the Mail Department. There, she handled mail and packages that were sent to servicemen. At times, she and fellow WACs from the Mail Department, wrote notes to soldiers who did not receive any mail, hoping that a note would lift their spirits and let a soldier know that someone was thinking of them.
Bogdanich recounts one incident in which the wife of a servicemen left their baby in his care on the field, having relinquished her responsibility. Bogdanich's commanding officer sprang into action, and she and other captains and lieutenants helped care for the baby, even going so far as to sew a little uniform for the child.
During World War II, Bogdanich remained stateside. When presented with the opportunity to serve in China with fellow WACs, she followed the advice of her brother to, "stay right where [she] was." Bogdanich was discharged from the service in Santa Monica, California, in 1946, and she and her sister traveled around California before returning to Chicago. Back in Illinois, Bogdanich returned to her job at Illinois Bell Telephone, before being hired to do office work for the Indiana Railroad Company near the stockyards. Bogdanich later met her husband, Andrew, a regular in their neighborhood friend group.
 A proud veteran, Bogdanich says of her service, that she felt that she made a difference during war time. In 2019, she participated on the Honor Flight to Washington and is planning to attend the next one in 2021 or 2022.
Photo credit, Josephine Bogdanich and Women's Honor Flight, Chicago