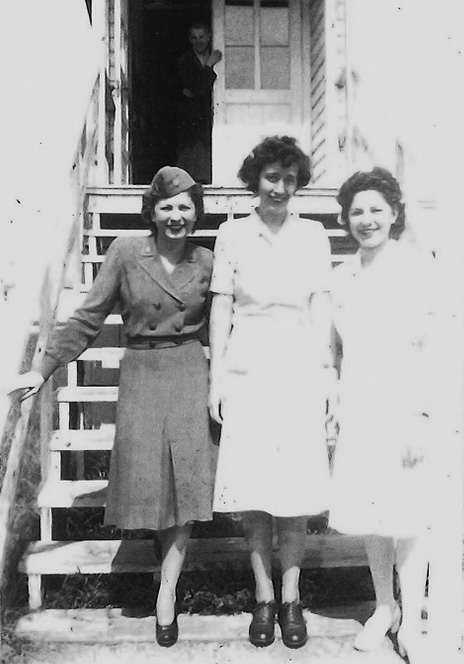 Record date:
Mildred Dost, Nurse, US Army, and Marian Boyer, Nurse, US Navy
Mildred Dost and Marian Boyer transcript
From one twin sister surviving a serious car accident as a child to both sisters celebrating V-J Day at their different deployments, First Lieutenant Mildred Dost and Lieutenant Marian Boyer reflect upon their lives. Their joint interviews focuses on their service as nurses during World War II. "It was an education, let me tell ya!," Dost exclaims.
1LT Mildred Dost and LT Marian Boyer, twin sisters, were born in Cleveland, Ohio in November of 1920. Dost had always planned to go into the field of nursing, while Boyer imagined becoming a flight attendant - which, in the 1940s, also required RN (registered nurse) qualification. Thus, both pursued nursing, with 1LT Dost focusing on obstetrics and LT Boyer on surgery. However, after the attack on Pearl Harbor and the entrance of the U.S. into World War II, the sisters' plans changed.
LT Boyer, barred from being a flight attendant due to new restrictions, enlisted in the US Navy as soon as she was finished with schooling. From there, she went to basic training in Portsmouth, Virginia, before serving at hospitals in Camp Pendleton, California and Honolulu, Hawaii.
1LT Dost had a tougher time joining the military; due to a near-fatal car crash in her youth, she applied three times in two different states before enlisting in the Army. After basic training at Fort Billings, she was stationed stateside at Fort Knox, Kentucky for the duration of the war.
Throughout their interview, these two sisters together and separately tell stories of their childhood, their shared car accident, and their nursing education. They also touch on their duties during the war, Marian Boyer worked in surgery, while Mildred Dost, although threatened with being assigned to chemical warfare, eventually ended up working in obstetrics. They also discuss their interactions with other service members and their families. For example, 1LT Dost, whose husband was an engineer in the Army, describes how they got to know one another through pen-pal letters before secretly marrying at Fort Knox, Kentucky. Finally, Dost and Boyer explain their reactions to important events like V-J Day and their lives after the end of World War II - as wives, as mothers, and as veterans. They currently support military-related organizations such as American Legion and the D.A.R. [Daughters of the American Revolution]. They were also  honored to participate in an  Honor Flight to Washington, D.C. The sisters are assisted in telling their stories by their friend, who is also a nurse, Lynn Farthing.